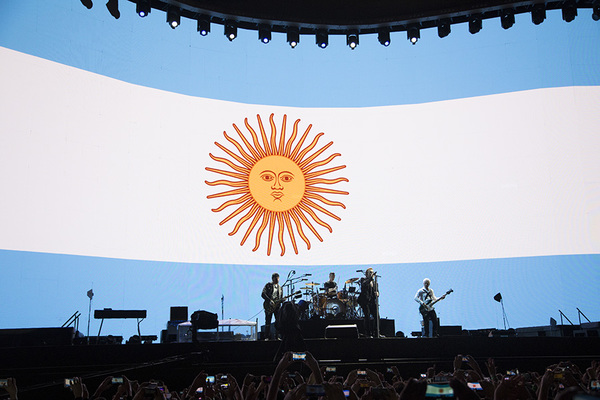 'When the night has come...'


When & Where
Tuesday, October 10th, 2017, Estadio Único de La Plata, Buenos Aires, Argentina. Night 45 of #U2TheJoshuaTreeTour.
Set List
Knowing their Argentinian fans' ardor for futbol—and especially for Lionel Messi and his teammates on Argentina's national team — on Tuesday night in Buenos Aires, U2 decided to postpone their performance by a couple of hours so the more than 40,000 fans who packed Estadio Único de La Plata in Buenos Aires could watch Messi lead his team to victory in a World Cup qualifying match against the national team of Ecuador. Four screens were set up in the corners of La Plata so fans could watch the match after local band Joystick and Noel Gallagher and his High Flying Birds opened for the Albicelestes. Moments after forward Messi scored his third goal (a hat-trick!) to clinch the 3–1 win and the stadium erupted in joyful celebration, Larry, Adam, Edge, and Bono took the stage and road the waves of jubilation for the next two hours. The set included the usual Holy Quartet of 'Sunday Bloody Sunday', 'New Years Day', 'Bad', and 'Pride (In The Name of Love),' as well as 'The Joshua Tree' album in its entirety, where 'Streets' contained a lengthy, lively snippet of 'Stand By Me'). The encore included rousing renditions of 'Beautiful Day', 'Elevation', 'Vertigo', and the new single 'You're The Best Thing About Me', followed and 'One', which ended with Bono opening up a bottle of bubbly and making a toast: 'To... all you have to toast. Lionel Messi! His Lordship. Thank you. Muchas gracias, amigos.'
Here's the complete set list from Buenos Aires.
Social Posts
@Belisario_M: Es increíble el sentimiento de profunda comunión que genera U2. #U2TheJoshuaTree2017
@ajnova: Name another band out there as #classy, and considerate as @u2? #argentina #buenosaires #worldcup #u2
@maxikron: El partido de Argentina , los 3 goles de Messi, la clasificacion y el lugar recital de U2 son cosas q jamás olvidare en mi vida
If You Had To Pick One Song
Mothers of the Disappeared. 'In the trees our sons stand naked/Through the walls our daughter cry/See their tears in the rainfall.'
Bono said: 'For those in Argentina fighting for human rights, past and present, we sing this for you.'
Local fans arranged a flash mob by handing out white handkerchiefs to the audience, who waived them during the performance of the song which Bono was inspired to write after visiting Central America for the first time in 1986 and hearing the stories of the Madres de Plaza de Mayo (and others) who had lost children who were 'forcibly disappeared' by the dictatorships in power in Argentina and Chile at the time.
Tuesday night's performance included Bono leading the audience in a loud and sustained chant of 'El Puebla Vencera!' ('the people will overcome').
What (else) did Bono Say?
During his intro to 'Bad', Bono said: 'Gracias por venir a vernos— Thank you for letting us back into your life. Thank you for coming out to see us tonite, and thank you for Lionel Messi... who surely proves that God exists.'
During the intro to 'One', Bono said: 'A movement of the masses. Movimiento de las masas.That's what's changes history—mass movement—and that's what we're looking for…A movement, to quote Patti Smith, 'to wrestle the world from fools'. Here in Argentina we sing this for the ONE members who are fighting extreme poverty wherever they find it. Thery're not from the left and they're not from the right—they just care about the injustice of people being left behind. This is a great nation, Argentina. A great, great nation. You have a great future, Argentina, when you work together.'
Other Noteworthy Stuff
Longtime U2 fan Vidhya (aka @MysteriousDays on Twitter and Mixlr), a software consultant living in Canada, attended the first Argentina show in Estadio Único de La Plata Tuesday night and had this to report: 'I've been dreaming about visiting South America for many years, but this dream only came to fruition this year. My first concert in South America is Argentina1 on this tour.
'Two key words sum it up: Argentinian passion. The country's love and passion for football had us watching the World Cup qualifying game on the big screen between Noel Gallagher's set and U2's set. And of course, Argentina beat Ecuador 3-1 in an exciting game thanks to Lionel Messi! The audience went wild with each [of his three] goals, erupted in a roar as Argentina won, and then exploded when U2 took the stage moments later!
'Friends had warned me about the Argentinian audience: "Beware, they are crazy and passionate! They will be loud! They will be emotional!" I had no idea what was in store for us…The crowd on the floor lunged forward in excitement as Larry hit the stage for 'Sunday Bloody Sunday'. Their energy carried through all the songs in the first set and the Joshua Tree set. During 'Mothers of the Disappeared', floor audience members held up white handkerchiefs in a very moving tribute. Bono sang 'Presente' and the audience helped him close out in a very moving a cappella coda of 'El Pueblo Vencera' that brought me to tears.
'The last few songs were a crazy blur. Sometime during 'Beautiful Day' or 'Elevation' or 'Vertigo', the floor audience morphed into an ocean—a huge ocean with breaking waves moving up and down and side to side, where audience members were carried along whether we wanted to move along with it or not. Am I jumping, I thought? Or is that the ocean just carrying me along with it? I've never experienced anything like it! I don't know how to describe it other than to say it was really high octane moving swaying jumping bouncing dancing waves! With a few thousand people all crashing into each other!
'Argentinian passion— I guess it's addictive because I'm going to the second show in Argentina as well! Wish me luck!'
Review on U2.com
CHISTRI: Thank you! Thanks Bono, Edge, Adam and Larry for such an amazing, awesome, beautiful, emotional and powerful concert; soccer match included! Thanks my city Rosario for Messi, thanks Ireland for U2!
Were you at the show in Buenos Aires? Tell us all about it. Add your own review and photos on our tour pages.