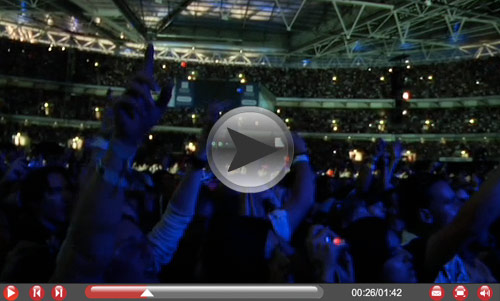 Another special night and the band mixed up the set list again. Hard to single out any particular moments but as someone says below, 'To see 88,000 people lose themselves in music is a sight you don't forget in a hurry.'
And enjoyed this comment: 'Ultraviolet wins in this tour- it's got real panache- a laser jacket, a rope swing mic, lower lighting, and Bono's voice seems to sound better now singing it than he did on Achtung. Hats off. Oh and that 'Streets' song ;)".
Keep sending us your reviews. What did it feel like to be at the show tonight? Surprises? Shocks? Unforgettable moments you'll never surrender? Here's what they played."
Breathe
No Line On The Horizon
Get On Your Boots
Magnificent
Beautiful Day
Until The End of the World
New Year's Day
I Still Haven't Found What I'm Looking For
Stay
Unknown Caller
Unforgettable Fire
City of Blinding Lights
Vertigo
I'll Go Crazy If I Don't Go Crazy Tonight (Remix)
Sunday Bloody Sunday
Pride (In The Name of Love)
MLK
Walk On
Where The Streets Have No Name
One
(Bad)
--------
Ultraviolet
With Or Without You
Moment of Surrender