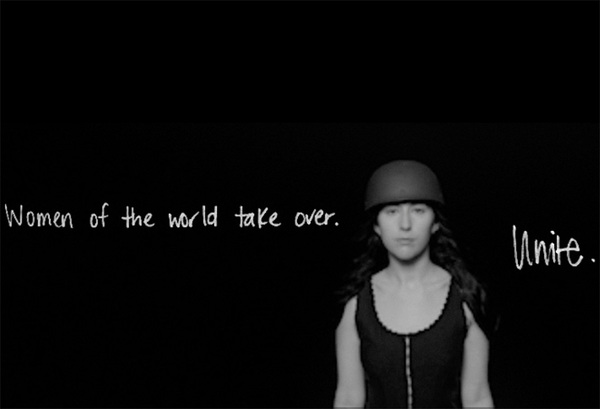 'Women of the world take over
'Cause if you don't the world will come to an end
And it won't take long...'

Catch The Edge and Bono on The Ellen DeGeneres Show the other day? Talking about ONE's 'Poverty is Sexist' movement?
In this clip you'll see Ellen and the studio audience joining in to sing 'women of the world take over...'.
Women of the World, originally written by Ivor Cutler and popularised by Jim O'Rourke, features every night on the #U2eiTour, with vocals led by Madison Ryann Ward. It's all about a powerful and compelling initiative in which you can take part - a growing global movement working to close the gender gap for women living in poverty.

'There's a hundred and thirty million girls in the world who don't go to school ... and it's not acceptable,' as Bono told Ellen's audience.
The voices of Ellen and her audience are now part of the choir - and this is your chance to be in the show and part of the movement.
Record yourself singing the song and post it to your favourite social platform using the hashtag #womenoftheworldtakeover

On showdays we will be collecting voices and including them to add to the 'choir' for the show*.
Watch the video, listen to the song, record your version and post to your socials using #womenoftheworldtakeover
Gender inequality transcends borders but the conversation often leaves out the women most affected—those living in extreme poverty.

ONE started the Poverty is Sexist movement to make sure the world's most vulnerable women and girls are at the heart of the fight for equality, and to pressure world leaders to break down the barriers and sexist policies that hold them back. ONE is mobilizing millions of people to pressure world leaders to:
Help the 130 million more girls who are not in school get the education they deserve
Expand bank account access to 100 million women
Prevent 20,000 new HIV infections in women in 2018
As U2 put it in the show - 'None of us are equal until all of us are equal.'

Read more about ONE's movement here.

A letter from ONE to world leaders has attracted 150,000 signatures - including Oprah, Meryl Streep, Reese Witherspoon, Danai Gurira, Amy Schumer, Mindy Kaling and Ryan Reynolds.

Add your own signature here.
* By submitting, posting, uploading and/or otherwise providing your name, recordings, photographs and other materials and content (collectively, the "User Material") hereunder, you hereby agree that, while, as between you and us, you shall retain all of your ownership rights in the User Material, you hereby grant to us and our designees (including, without limitation, U2.com) the royalty-free, worldwide, perpetual, fully sub-licensable, irrevocable, transferable, non-exclusive right to use, reproduce, modify, create derivative works from, distribute, digitally perform, publicly perform and publicly display and otherwise exploit the User Material in any manner and in any form, media or technology now known or later developed and/or to incorporate such User Material in other works in any form, media or technology now known or later developed (including, without limitation, in connection with the Women Of The World Campaign), for any purpose whatsoever, commercial or otherwise, without compensation to or prior approval by you. By submitting, posting or uploading the User Material hereunder you represent and warrant that (a) your age is 18 years or greater, (b) no other party has any rights to the User Material and/ you have all rights necessary to grant the rights granted hereunder, (c) the User Material is not subject to any obligation, whether of confidentiality, attribution or otherwise, on our part and we shall not be liable for any use or disclosure of any User Material, (d) your provision of the User Material to and through us, complies with all applicable laws, rules and regulations, and (e) you hereby indemnify us and our designees for all claims resulting from the User Material you supply and/or any use thereof. You further irrevocably waive any "moral rights" or other rights with respect to attribution of authorship or integrity of the User Material that you may have under any applicable law under any legal theory.