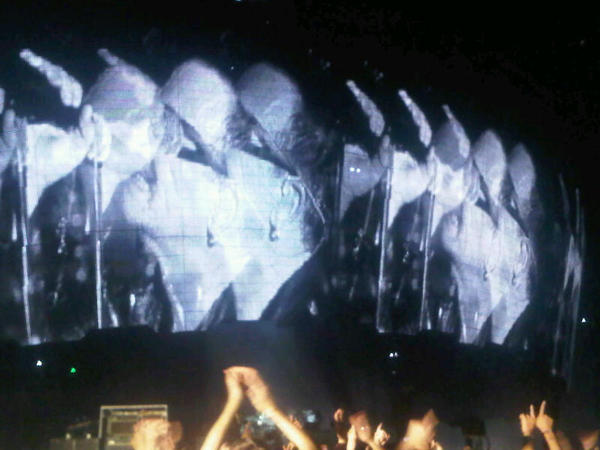 At the Estadio Olímpico de la Cartuja in  Seville and what a fine audience for another very fine show.
We have North Star and Mercy back in the set tonight, along with New Year's Day, after a short absence, and the always euphorically received Ultraviolet.
With 77,000 in the house, we're breaking records again and this audience are singing along like their lives depend on it - the sound is particularly crisp, thanks to Mr Joe O'Herlihy entering his 33rd year of service.
With just three more shows to go on this European summer leg of the tour, Bono reflects that it was here in Spain that we began this tour, way back in June last year, so it's great to be here again. But that's not all...
'There's somebody special here tonight,' he says, 'Who gave me my first guitar lesson. My big brother and it's his birthday tonight and he's come to Seville to celebrate.'
And we all joined in with a deafening chorus of Happy Birthday to Norman, to celebrate. 'Wonderful night, something very special...'
'Celtijonny' puts it well in one of our early reviews: 'That was one mother of a concert! Fantastic night in Seville. As Bono said at the the end; "It was great, great night!". The Sevillano audience helped too, they were magnicent. I was with my wife Mo ( a local girl from Seville!), who was also celebrating her birthday - just like Bono´s brother Norman! Met a few lads from Dublin,we had a mighty craic - even though I´m from Cork! '
Was it a mighty craic for you as well? Let us know if you were at the show tonight -
add your own review and upload your photos.
And we'll see you again in Portugal on Saturday night.