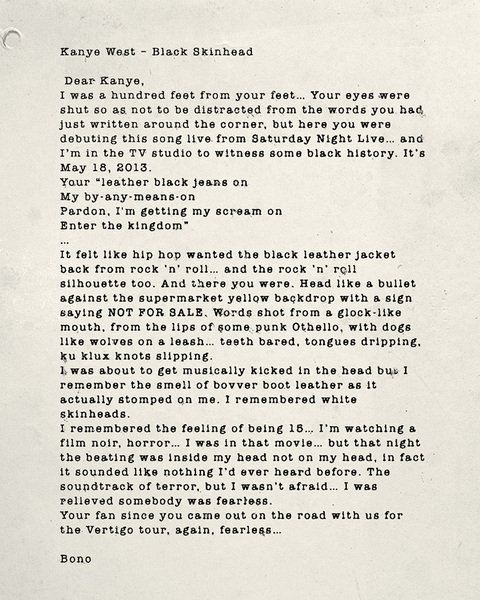 Your Fan, Bono
To mark his birthday at the weekend, Bono has curated a playlist of '60 Songs That Saved My Life' and through this week is writing letters to thank their creators.
Six more 'fan letters' are being shared today - to The Beatles, Patti Smith, Kanye West, Ramones, REM and Jay Z & Alicia.
Here's some highlights.
Writing to The Beatles about I Wanna Hold Your Hand, Bono recalls, 'It was the spring of 1964… the song on the radio felt like life force… like I was for the first time conscious that I was alive and that being alive was a really, really great idea!'
Remembering being in the Saturday Night Live studio in 2013, when Kanye West debuted Black Skinhead, he writes, 'It felt like hip hop wanted the black leather jacket back from rock 'n' roll… and the rock 'n' roll silhouette too….'
Swallow My Pride, he writes to Ramones, was 'the sound of liberation through humiliation… these songs are so simple I'm thinking maybe I can not only play them, maybe I can write them… so they became my liberation too.'
Writing to Patti Smith ('Your fan from forever, for forever') he recalls how People Have The Power has been played at so many U2 shows. 'It reminds us that the real action of the show lies in the hearts and minds of the people who attend it and it's not the apparatus, however thoughtfully contrived and constructed. The lights, camera, action is the way we draw nearer, but the intimacy is always about meeting people where they are…'
Listening to Nightswimming reminds Bono of how much he misses REM: 'After y'all broke up, I was kind of happy that you'd made peace with the world of expectation and ended on such a high tremulous note. Recently, I'm not so happy. I ache for the ache at the heart of your band. I long with the longing that is the mind of R.E.M. The wanderlust. The returning. And that baritone…. God help us all. That baritone might just fix the brokenness we all feel right now….'
As for Empire State of Mind, Bono's tells JAY-Z and Alicia Keys that only they 'would take on Sinatra, to write a better theme song for this great city…. Forget the Empire State Building, the braggadocio, the front, the attitude, the persona required to pull this off is as tall and defiant as the Freedom Tower.'
Read the latest letters in full in our gallery above - and find all the letters published to date here.