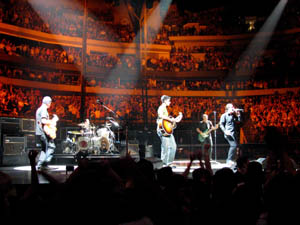 Blinding Lights at the American Airlines Arena in Dallas, gives way to Vertigo, as Bono introduces the band: 'drums, bass, six strings and an IQ of 250. WBlinding Lights at the American Airlines Arena in Dallas, gives way to Vertigo, as Bono introduces the band: 'drums, bass, six strings and an IQ of 250. Who is this man ? Who is this man?'
Two shows in Texas in two nights mean the band are on fire tonight, before flying to the West Coast for appointments in Los Angeles. This tour is racing by and it seems to be the arrival of Electric Co that signals a gear change each night, as Edge, now racing around the ellipse, breaks into the sound that he invented and patented with just six strings and that IQ.
The singer, with his photographic memory, is already recalling the band's earlier entry into this city, a quarter century back.
'Driving into Dallas Texas, shining city, right out there, glass and steel
So it's 25 years
My it's been fun
Twenty five years since we arrived here in a blue bus coming off the freeway with big ideas.. about to meet you.'
They might have played Electric Co and The Ocean that night too - they still sound fresh - but all these other songs were way out in the future: I Still Haven't Found; Beautiful Day; Miracle Drug;Sometimes you Can't Make it On Your Own; Love and Peace or Else; Sunday Bloody Sunday; Bullet The Blue Sky and Miss Sarajevo.
At the time if few knew U2, everybody knew Bob Marley, the first Third World superstar as he became known, and labelmates with U2 from day one. Tonight, his son is on stage with U2 and the pride is mutual.
'We're so proud to be here with Damian Marley and his band of merry pranksters,' says Bono. 'Thanks for coming out.'
Dedicating Sometimes to Bob Hewson ('I still miss him'), the memories are flowing again but it's the future that is most important to this band, not just the future that our scientists will bring us in medicine (Miracle Drug) but also a future we have to find where we live together in Love and Peace.
CoeXisT is a piece of graffiti found written somewhere in the midwest, explains Bono, and 'now it's wrapped around my head.. my heart.. CoeXisT... It's getting harder to hold onto. You will hold on to it, won't you now Dallas?'
The deafeningly appreciative response suggests there are no worries on that score in this part of Texas.
'Hey son,' smiles the singer, pulling a little boy out of the crowd, ' You sit down there son of Abraham.'
This little boy is the future where we remember we are all sons of Abraham as Edge fires open the scary sonics of Bullet the Blue Sky, driving this dark and dizzying song to its close, Bono crawling blindfolded towards his microphone before a dedication to the US military.
In case there was any doubt, Luciana Pavarotti is not here tonight we learn but Bono is and, to compensate, 'I've been at the pasta.' It is a startling and moving Miss Sarajevo that follows, still earning its place in the set night after night. It segues neatly in to Pride which is sung not just for Martin Luther King and his dream but also for Rosa Parks' dream.
Bono's definitely freestyling a little tonight, playful in new and surprising ways, even though the set list is not markedly different from recent nights. Edge and Adam, both in striking new shirts, are looking pretty heroic and Larry, well, he usually looks pretty heroic anyway.
'Crazy Texans
Thank you thank you
Take out your phones
Seriously, I'm not kidding
Turn this place into a Christmas tree in the middle of October
Look close under the Christmas tree
Its Dallas, Texas
We're gonnna change the world. It's the truth!'
There's a strong new image in his mind tonight, to make the point he has been making on every night of this tour, about how we live in a world of such inequality - when we have the tools to change things. 'One day it will look as ridiculous as Rosa Parks being arrested on a bus... to have 3000 people dying a day of a mosquito bite.'
Praising the US's response to the crisis of Hurricane Katrina, he dedicates One 'to the people of Louisiana and all along the Mississippi'.
Walk On is back tonight, and like, Miss Sarajevo before it, it is rapidly becoming a staple of the set each night - not just a song that turns up quite often, but one that you can start expecting to turn up.
Edge and Bono start Stuck In A Moment alone and the arena takes off when Larry and Adam join them. But four instrumentalists is not enough.
'Can we get a another guitar down here ?' asks Bono, wondering if anyone might have a spare somewhere.
'What do you know?' he asks a young man who has climbed onto the stage and walked into his moment in pop history. 'Angel of Harlem!'
Who knows how long since they played this one-time U2 standard, but as Edge and Bono wonder back to the stage, Bono remarking that he hopes this works, it all comes back to them and the rendition is inspiring.
'It was a cold and wet December day
When we touched the ground at J.F.K.
The snow was melting on the ground
On B.L.S. I heard the sound
(Of an angel).
New York like a Christmas tree
Tonight, this city belongs to me,
(Angel)....'
Someone else came out of the audience to find the spotlight in With Or Without You before All Because of You ran into the arms of 'Yahweh' and 40 sent us out into a Texas night singing.