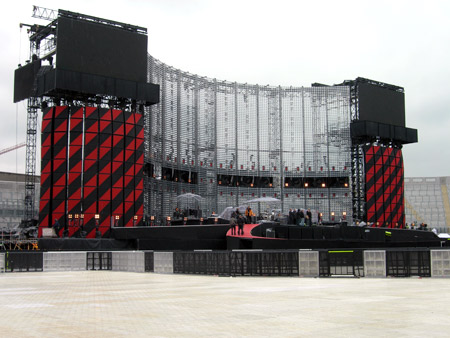 2.30pm. There's a light drizzle over Croke Park as the band take the stage for an early soundcheck.

With huge transparent umbrellas protecting the stage equipment from light rain, the band are soundchecking for tonight's first Dublin show.

'Who's Gonna Ride Your Wild Horses' is first up, with a couple of hundred stewards getting a sneak preview of tonights gig in this massive city centre stadium. But there's thousands of fans earwigging outside as evidenced by the huge roar of screams and applause as the song closes. (They're going to be in good form in a few hours by the sounds of it.)

The stage, incidentally, is higher than on the tour to date, a result of logistical issues at the venue to protect the pitch.

'Tonight there's gonna be a jailbreak,' adds Bono, slipping in a reference to Phil Lynott, at the end of a crisp run-through of Vertigo. Can't wait...