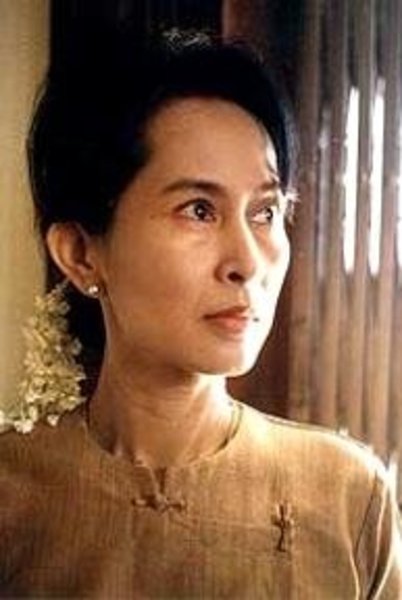 Bono has joined George Clooney, Desmond Tutu, Stephen Spielberg and others in calling for the release of Burmese leader and Nobel Peace Prize Laureate Aung San Suu Kyi.
The Not On Our Watch campaign, founded by George Clooney, Brad Pitt, and Matt Damon, is a broadbased network of politicians, entertainers and artists calling on the international community and the United Nations to press for the release of the Burmese freedom fighter.
"Nineteen years ago, the Burmese people chose Aung San Suu Kyi to be their next leader. And for most of those 19 years she has been kept under house arrest by the military junta that now runs the country. She is the world's only incarcerated Nobel Peace Prize Laureate. Yesterday Suu Kyi was taken to Burma's Insein prison to face criminal charges as part of a concerted plan to deny her freedom. We must not stand by as she is silenced once again. Now is the time for the United Nations and the entire international community to speak clearly, and with one voice: Free Aung San Suu Kyi."
The head of Burma's leading opposition party, the National League for Democracy (NLD), Aung San Suu Kyi was first placed under house arrest 19 years ago. Following nationwide elections in 1990 in which the NLD won 82 percent of the vote, the ruling Burmese military junta extended Suu Kyi's imprisonment and refused to recognize the results. For 13 of the past 19 years, she has been under house arrest in the Burmese capital of Rangoon. The UN has declared that her incarceration not only "violates international law but also national domestic laws of Myanmar [Burma]."
Originally scheduled to be released at the end of May 2009, a bizarre turn of events has thrown Suu Kyi's future into doubt. Earlier this month, an American unlawfully swam to her compound, staying there for two nights against Suu Kyi's wishes. Upon the discovery of this visit, Burmese authorities arrested the intruder, and on May 14, took Suu Kyi to the Insein prison to face criminal charges aimed at further extending her incarceration. They have declared that she will stand trial on May 18.
See the list of signatories to the statement and add your own support
here
'Walk on, walk on What you got they can't steal it No they can't even feel it Walk on, walk on... Stay safe tonight..'
(from Walk On, written by U2 in 2001 and dedicated to Aung San Suu Kyi.)