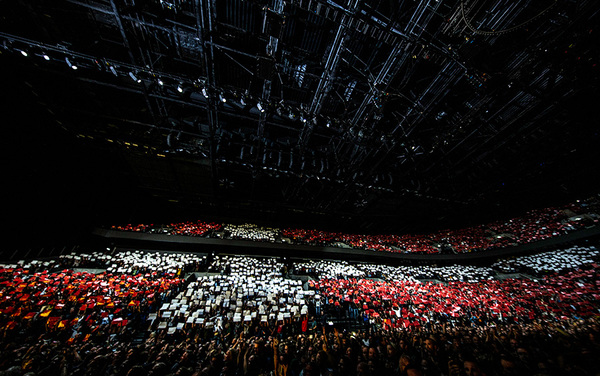 Beautiful Night in Copenhagen
After a few days off, the European tour took off again in Copenhagen tonight, first time in the city since 2005.
When & Where
After a few days off, the European tour took off again in the Royal Arena, Copenhagen tonight, Saturday 29th September 2018 - first time in the city since 2005.
Set List
Special flash-mob moment which has to be seen to be believed - Danish flag on one side of the venue, Irish flag on the other. These fans are nothing if not organised. One great night - but then you guessed we'd say that. All Because Of You is in the set for the first time on night 1 of any city this leg. Here's the full set list from first night in Copenhagen.
In The Press
via thelocal.dk
'It's safe to say that Bono does not like Jimmie Åkesson. For the second time this month, the U2 frontman compared the Sweden Democrats' leader to a Nazi during a concert. Using a photo filter to perform under the guise of Macphisto, a sort of Irish version of the Faustian devil Macphisto, the rockstar introduced the band's 1991 song 'Acrobat' by mockingly congratulating some of Europe's best-known populists, starting with those in Denmark. "Denmark, I had forgotten about your splendid colonial ways, but I see you're finding your own form. Forget Borgen. You're banning burqas and confiscating jewellery from those awful asylum seekers. Bravo!" After calling Hungary's Prime Minister Viktor Orban a "lovely man", he performed a Nazi salute as he barked out "Jimmie Åkesson, next door in Sweden", a move he first debuted at a Paris concert on September 9th. He then insulted France's Marine Le Pen as "Daddy's litte girl", and a "little girl with big ideas". Macphisto was one of three characters Bono conceived for the band's Zoo TV tour back in 1992, and then used to make satirical statements and prank shows to local politicians, employing an exaggerated upper-class English accent. Saturday's concert at Copenhagen's Royal Arena was sold out, as is Sunday night's show in the same venue.'
On The Socials
@umtaldecarlos (via Twitter) (translated) 'Pride is a beautiful moment in this #U2eiTour because it comes soon after a video that shows the bad side of humanity and soon after the good deeds and the Bono shouting: THIS IS WHO We ARE! I cried both times'.
@ammrdnvc (via Twitter) 'Amazing choreography, Danish flag (heart) Bono lost it!! Well done #U2Copenhagen'
@U2tour (via Twitter) 'No Red Flag Day in the set tonight, but a red (&) white flag in the audience!'
What Did Bono Say?
(During the fan organised flag flashmob) : "Look at you… fly your flag… what a picture… that's a beautiful flag right there."
"A story of four ordinary boys, lifted out of the ordinary by our music… and by our audience… taken somewhere else… you've made something extraordinary out of our lives"
"It's a sexy city, Copenhagen. Sexy European city. We should come here when I'm not working."
U2.com / Zootopia reviews
bonoforever 'TIFO Saturday CPH - Hi there, all of you. Thanks for your kind words about the TIFO with the Danish and the Irish flag presented at the show in CPH, Sept 29th I Got that crazy idea three months ago, but no ideas become reality without splendid people around you. Thanks to LiveNation and U2 Management for fulfulling my idea and helping to make it reality. "It always seems impossible, until it is done".
jkrroemer 'Fantastic concert - Glorious moment with a fantastic and surprising setlist. 30 years later since my first concert U2 is still a special band full of heart and soul and a lot of minds. Love the attitude.'
Were you in Copenhagen tonight ? Post your reviews and add your photos here.