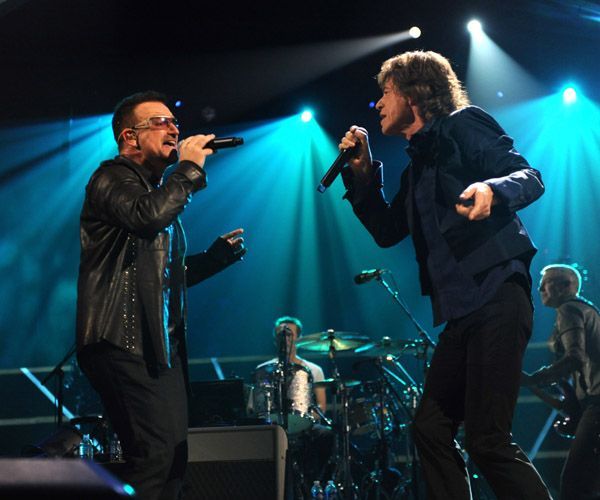 It's not long over in New York, night two of the 25th anniversary celebrations of the Rock and Roll Hall of Fame. Here's some highlights - photos and more on the way.

From Lou Reed joining Metallica for 'Sweet Jane' to 'Stuck in a Moment' when Mick Jagger joined U2, it was a night when some of the greatest musicians jammed with each other in homage to the traditions of rock'n'roll. Annie Lennox with Lenny Kravitz, Jeff Beck with Sting and Buddy Guy, Ozzy Ozbourne rocking out with Metallica and Ray Davies leading on Kinks standard 'You Really Got Me'.

Edge, Larry, Adam and Bono, arriving on stage for a blistering rendition of Vertigo and a soaring Magnificent, were complemented by Bruce Springsteen and Patti Smith for the song he wrote with her 'Because The Night'. Legendary E Street keyboardist Roy Bittan was up with Bruce for 'Still Haven't Found' before Black Eyed Peas, fresh from the final 2009 dates of the 360 Tour, got in the groove for a seriously funky Mysterious Ways.

Fergie and U2 were joined by Mick Jagger for 'Gimme Shelter' while Sir Mick took the vocals with Bono for 'Stuck In A Moment'. A beautiful night had to end with a Beautiful Day, when U2 wrapped the proceedings up.

More news and photos coming up. If you were there tonight: let us know how it was for you.