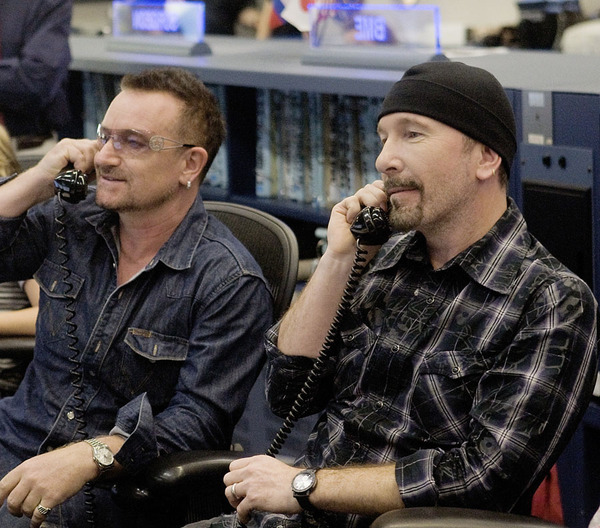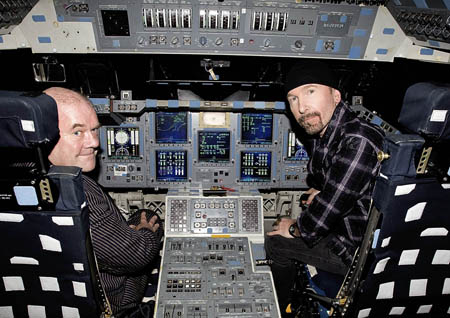 Bono and Edge visited the Johnson Space Centre today. They spoke to the staff and were given a tour around the centre by working astronauts. After asking the team if they were ever afraid in space, Bono said "I've never talked to one astronaut who even admits fear."
They pair then went to Mission Control and spoke to the team on the International Space Station (ISS) and Guy Laliberte, who joined the call from Russia. Guy recently spent a week with ISS, the first clown in space. The ISS is commanded by Frank De Winne, who has appeared in numerous U2 shows on U2 360, and was on the call along with four other astronauts.
Bono asked Frank how Guy had behaved in space. The commander commented the ISS was different having Guy: "a clown running around with red noses was definitely different".
The ISS astronauts spoke of what they could see from space, and mentioned that recently he'd photographed the pyramids. At which time Edge jumped in "what about the U2 production - can you see that?"
The Russian Cosmonaut Roman Romanenko, invited himself to join U2 onstage in Moscow next year. The Russian mentioned he'd been playing bass guitar for many years and was looking forward to getting onstage.
The talk ended with Bono saying to the folks at Mission Control and the ISS, "you remind people on earth the impossible is possible. This is an amazing church of possibilities that you represent. Frank De Winne For President."