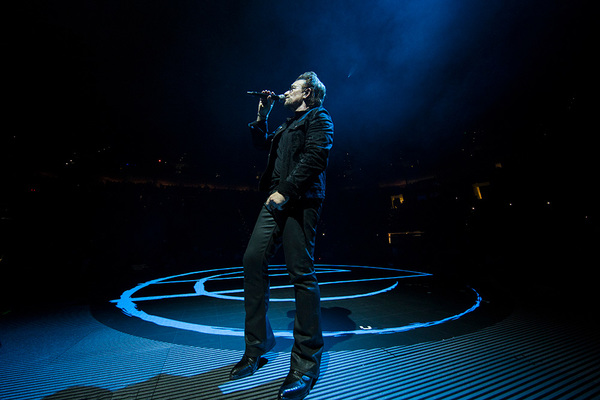 When & Where
Saturday May 19th 2018. Show 9 of U2eiTour at the CenturyLink Centre, Omaha. Only the second ever full U2 show in Nebraska.
Set List
Gloria is back in the set after a break of one show to become the most played live song from the 'October' album (stat spotted earlier by eagle-eyed @U2gigs and who are we to argue!). Here's the complete set list from tonight.
Social Posts
@brettatlas (via Twitter)
Not gonna lie, this augmented reality for U2 concert is pretty nuts.
@HerzensSonne22 (via Twitter)
Always amazing and wonderful to see: U2 creates the best shows ever seen…and then we see: All it really is about are these four friends, brothers, making music together
@ErinOmaha (via Twitter)
U2 nights are some of my life's best nights. Still buzzing from yesterday's #Omaha show. Faves: Until the End of the World, Iris, Gloria, Elevation. Amazing stuff, always. And a great workout as well!
In The Press
Kevin Coffey for World Herald - @owhmusicguy on Twitter

'That was not a concert. That was an experience. U2 brought more than 15,000 together Saturday night for a musical journey through two hours of its biggest hits and a healthy sampling of its latest two albums. A unifying experience, the show was marked by an epic and clever production that put the band — a Rock & Roll Hall of Fame act considered one of the best rock bands ever — nearly everywhere in the arena all at once. With two stages connected by a long catwalk and an absolutely massive idea screen, part of the show was always playing for you no matter where you were in the arena. U2 played quite a few songs from that small stage, and Bono, The Edge, Adam Clayton and Larry Mullen Jr. made the cavernous CenturyLink Center feel much, much more intimate.
Being in the audience brought a connection to everyone else there even if you were what felt like miles away from one another. Just take "Elevation." When the lights went up during the chorus, it seemed every member of the audience was jumping on their feet, shouting the words and throwing their fists in the air. During "One," Bono pointed his mic to the crowd, and we all sang the chorus together like old friends singing a favorite at the pub. During "Pride," the four members stood in four corners of the arena surrounded by the audience and clanging out the classic song. In my years, I've seen a few hundred arena shows, but I've never seen anything like that.Every moment was crafted to engage, entertain and tell a story… it was sensory overload… …It all came together as U2 closed with a series of unifying songs including "American Soul," "City of Blinding Lights," "One" and "Love Is Bigger Than Anything In Its Way" as the thousands of us gathered there stood and sang with them. "Wow," Bono said. "Wow. Wow. Thank you. … Thank you for giving us a great night.c'
Fansite Coverage
Beth Nabi - @bethandbono on twitter heads up the @U2TattooProject which she is presenting at the upcoming fan-led U2 Conference in Belfast next month - Beth has been following the U2eiTour all around the West Coast over the past few weeks, and now as things shift eastwards, we asked her for her take on the show tonight.
'Places like L.A. and Vegas are exciting and sexy and star-studded, but the smaller floor and smaller crowd of Omaha's CenturyLink Center made for a more intimate-feeling show. I like to roam about the GA during the show and get as much of a thrill out of the audience response to the amazing theatrics and staging as I do the performances themselves. Some of my favourite moments were hearing the Omaha crowd roar as the screen split open to reveal solo Bono singing "Love Is All We Have Left" in the middle of the arena; seeing fans at the e-stage lose it at hearing "Acrobat"; watching unsuspecting people at the back of GA react in disbelief that they're now front row for an Edge performance during "Pride"; seeing Bono so moved at the Omaha crowd singing "Love Is Bigger Than Anything In Its Way" back to him. It already feels like a U2 anthem, and the response speaks to how great Songs of Experience is.
I was excited to meet Bono's best friend and collaborator Gavin Friday during a Starbucks run (Omaha's a small town!) and have the opportunity to tell him how brilliant the show is. One of the highlights for me is actually a performance of his, rather than the band's: his cover of "Hold Me, Thrill Me, Kiss Me, Kill Me" that plays over an animated comic that tells the story of U2's Faustian bargain with Macphisto. I wrote my undergraduate thesis 18 years ago on an overlap between William Blake's "The Book of Urizen" and a 10-issue series of a popular comic book. To see U2 and Gavin pulling together Blake's poetry and the graphic novel format and this masterpiece of an album is all so cool and layered and intriguing. The show is already very emotionally charged, and then Bono dedicated "13 (There Is a Light)" to the students of Santa Fe High School, the site of the latest mass school shooting in the U.S. He spoke very earnestly about what happened just the day before the show'.
What did Bono Say?
"I'm here, I'm in Omaha, Nebraska. We love it here, we have friends here… the show's kind of magic, it's kind of special" (YTBTAM intro).
If You Had To Pick One Song
'And if the terrors of the night
come creeping into your days
And the world comes, stealing children from your room
Guard your innocence
From hallucination
and know that darkness always gathers around the light…'
At the close of tonight's show a special dedication following the school shooting in Texas. 'The next song is a lullaby which we dedicate to the kids of Santa Fe high and we sing it as a prayer of safety for all your children tonight…'
If you were at the show post your review and add your photos here.