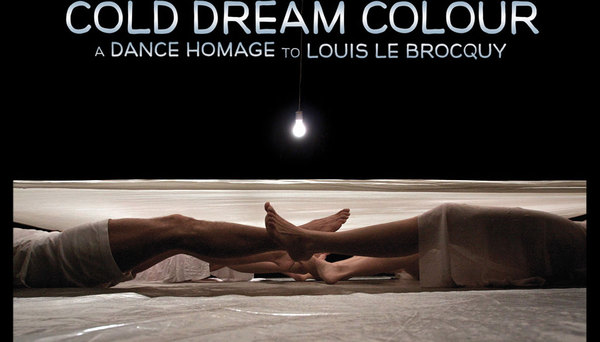 'Spellbinding … It's nice to see a bit of rock-star oomph being injected into the world of contemporary dance.'
That was the verdict of the Irish Times when Cold Dream Colour, a hypnotic dance production inspired by the work of Louis le Brocquy, opened in Ireland in 2010. Now the production, conceived and directed by Morleigh Steinberg, choreographer and wife of The Edge, is opening in Los Angeles.
Dublin-born Louis le Brocquy is recognized around the world as the foremost living figure in the history of C20th Irish art. A master of painting, illustration, printmaking, tapestry design and set design, his work has received international praise during a seventy year career.
Experiencing Le Brocquy's paintings for the first time, Morleigh was drawn to their powerful and evocative imagery. 'My response was a pure physical and emotional intrigue that stirred me. I imagined the vitality of his paintings, springing from the singular plane of the canvas into multi dimension, my body feeling their potential to translate into movement.'
In an interview with U2.com ahead of the Irish premiere a couple of years back, Morleigh told us that she asked Le Brocquy if he'd 'ever seen his paintings danced'.
'He said no, he'd never seen his paintings danced! So the idea started there. He so often pays homage to different painters, and I thought, for his birthday we could pay homage to him.'
Leading Los Angeles choreographer Oguri collaborates with Morleigh and another Dublin-based choreographer Liz Roche in Cold Dream Colour which features a score by Edge and Paul Chavez. The U.S. premiere takes place at REDCAT (Roy and Edna Disney/CalArts Theater) next month, from May 16 to Sunday, May 20.
Buy tickets here
Official website for
Cold Dream Colour.
Louis le Brocquy's
official website.