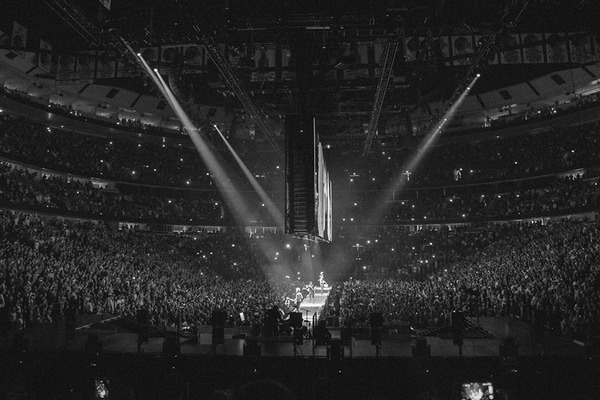 The fever got higher on the first night in Toronto, as Bono invited local tribute band, Acrobat, onto the 'e' stage to play Desire.

Adam and Larry stepped down to watch the band play with Edge adding guitar and Bono on back-up vocals.

@Toonamette : We finally got Acrobat on the #U2ieTour - not quite what I expected though. Way to go.
An incredible night for Mark (@U2Brothr), shared by fans worldwide and his own family (actually at the show) who tweeted later : 'This band believes in their fans. God as truly blessed me and our band this eve. My parent's first U2 show.'
'Right. That's now official.' added @u2community. 'Anything can happen on this #U2ieTour. In fact anything probably will happen.'

Tonight saw the return of Jessica, a belly dancer who joined the band for Mysterious Ways and the Meerkat stream. Jessica appeared onstage here 10 years ago - same band, same venue, different tour.
Twenty five songs in the show tonight, matching Phoenix for the longest of the tour. Introducing Iris, Bono remembered U2's first visit to this city, December 9th, 1981, the night after John Lennon was murdered. 'John Lennon's still singing in my ear, you know'
Were you at the first night in Toronto? What were your highlights? Post your own review and add your photos here.