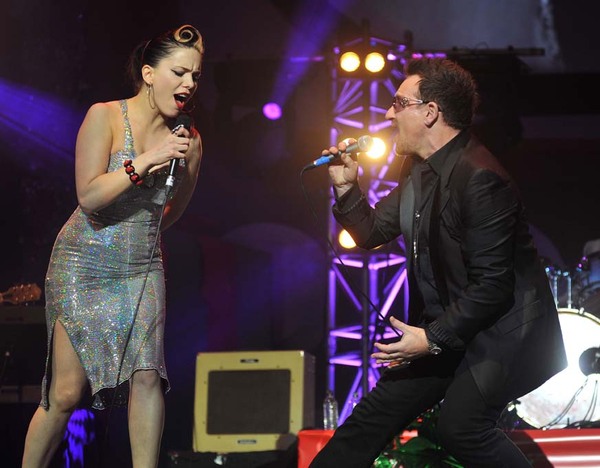 'You might recognise this one...' said Imelda May, as her band struck up the opening chords of 'Desire', towards the end of her sell-out show in Dublin tonight.
At which point Bono walked on stage to join her at the mic and the audience at the O2 went ballistic.
'Lover, I'm off the streets
I'm gonna go where the bright lights
And the big city meet
'With a red guitar, on fire
Desire...'
The great reception for 'Desire' was followed with another as Bono stayed on stage to join Imelda for the Darlene Love classic 'Christmas (Baby Please Come Home)'.
Lit up the twittersphere too:
@Jenny_Egan:'Imelda May was amazing in concert and when BONO came out it made my night :)'@Jason_OC: 'Bono just turned up on stage and did 2 tracks with imelda may!!! Desire!!!! Amazing...'
'Mams at imelda mays concert and bono just walked out..'
tweeted @AoifeReilly91
'worried she might keel over with excitement.
'