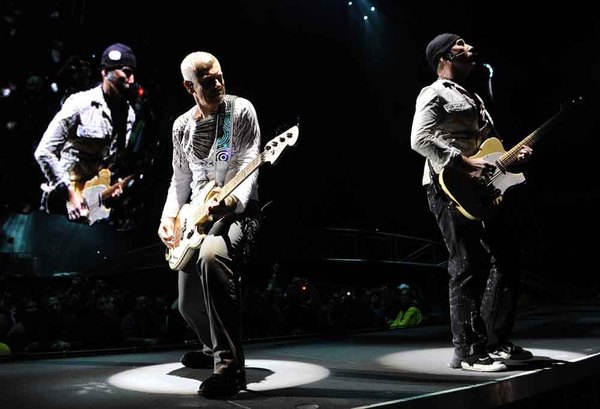 Jon Pareles in The New York Times has warm words for U2's stop at Giants Stadium. Here's a couple of extracts.
'The concert was high-minded and earthy, exalted and playful, sometimes even goofy, wielding rock-star prerogatives while undercutting them with disarming informality. 'We're very humbled,' Bono said to one wave of applause, and smiled. 'Well, maybe not.'
'Although Bono struck some rock-star poses, and there was plenty of flashy video, U2 reaches stadium crowds less with spectacle than with its sound, which swells to fill the largest spaces. The Edge's guitar parts ripple outward, often running through echo, reverb and distortion effects to spill across and around the beat; lately, in songs like ;Get On Your Boots' he has rediscovered the simple, centered impact of a riff. Regardless, Adam Clayton's bass lines and Larry Mullen Jr.'s parade-ground drumming keep the songs firmly grounded.'
'Under U2's outlandish claw, guitar noise and celebrity were, improbably, in tune with virtue - and fun, too.'
Read the whole
review.