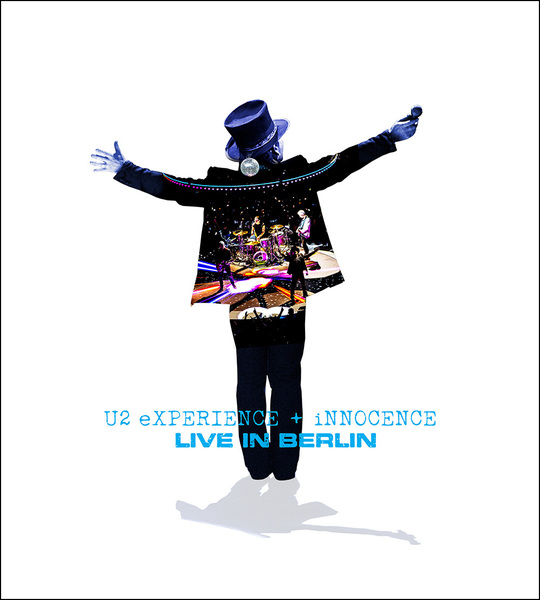 'U2 eXPERIENCE + iNNOCENCE – LIVE IN BERLIN'

Announcing our 2020 subscription offer and annual limited edition gift - 'U2 eXPERIENCE + iNNOCENCE - LIVE IN BERLIN', a unique celebration on DVD of the 2018 e+i tour shot on the closing night at Berlin's Mercedes-Benz Arena.
This film captures the entire e+i show - running at two hours and twenty two minutes - from the unforgettable opening burst of 'The Blackout' and 'Lights of Home' through live classics such as 'Gloria' and 'Beautiful Day', into tracks born in Berlin like 'The Fly' and 'Stay (Faraway So Close)' and reaching a crescendo with 'Love Is Bigger' and '13 (There Is A Light)'.
Subscribe or renew your subscription here.

'U2 eXPERIENCE + iNNOCENCE – LIVE IN BERLIN', directed by Matt Askem, is performed in the round with the same innovative production as its companion iNNOCENCE + eXPERIENCE Tour which 'reinvented the arena show' (Rolling Stone) two years before. The film follows the action as it moves between multiple performance areas and the groundbreaking state of the art 100 foot LED screen suspended above the arena-length walkway.

A 75 minute TV edit, curated by the band, kicked off 2020 for viewers around the world and now U2.com subscribers can take home the entire show - twenty three songs over 140 minutes. "When it comes to performing live," Variety said about the e+i tour, "the band remains the gold (and platinum) standard."

If the 2015 film 'U2 iNNOCENCE + eXPERIENCE Live in Paris' was the definitive live document of 2014's Songs of Innocence album, this new film is the definitive live document of 2017's Songs of Experience album.

The DVD is accompanied by a booklet of exclusive photos by tour photographer Ross Stewart and produced by the band's long time graphic designer Shaughn McGrath, with creative direction by Gavin Friday.

If you've already renewed your subscription for 2020, this is the gift that will be dispatched to you. If you renew your existing subscription now, 12 months will be added to your existing term and you will also be sent the DVD.
This limited edition release is already in production for 2020 U2.com subscribers and during February we will mail all subscribers with details on physical dispatch times.
Subscribe or renew your subscription here.