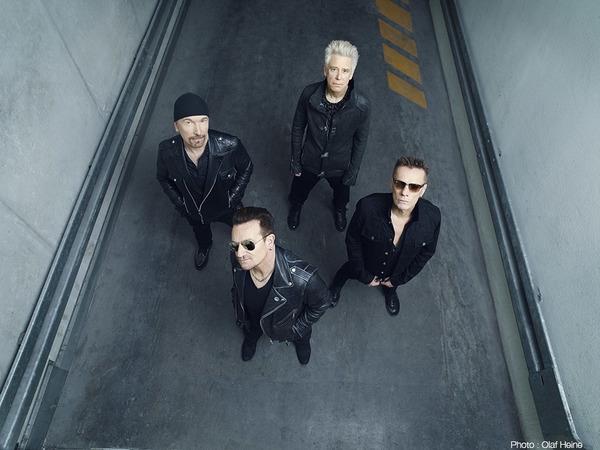 Having sold out nearly every one of 60 previously announced dates, one more night has been confirmed for the band's
iNNOCENCE & eXPERIENCE Tour 2015
.
A FOURTH show at Barcelona's Palau Sant Jordi will take place on Saturday, October 10th.

Tickets go on general sale next Thursday, February 19th, at 10am local time.
U2.com subscribers who have not yet used their unique pre-sale access code - or
new subscribers
- can take part in a
ticket pre-sale for this additional show from this Monday, February 16th at 10am (for eXPERIENCE subscribers) and from Tuesday, February 17th at 10am (for iNNOCENCE subscribers)
. This pre-sale will end on Tuesday, Feb 17th at 5pm. (All times are local venue time.)
Tickets will be general admission on the floor and reserved seating in the stands.
Qualifying subscribers will be emailed pre-sale details.
With the band performing multiple shows as they stop in different cities through North America and Europe, Bono has described how the band plan to mix things up.
'We are going to try to have a completely different feeling from night one to night two and have some fun playing with the idea of innocence and experience. More to be revealed!'
Below, the complete tour itinerary to date.
All dates and ticket options here
.
U2 iNNOCENCE + eXPERIENCE Tour 2015
NORTH AMERICA 2015
May 14th, Vancouver, BC, Rogers Arena
May 15th, Vancouver, BC, Rogers Arena
May 18th, San Jose, CA, SAP Center at San Jose
May 19th, San Jose, CA, SAP Center at San Jose
May 22nd, Phoenix, AZ, US Airways Center
May 23rd, Phoenix, AZ, US Airways Center
May 26th, Los Angeles, CA, Forum
May 27th, Los Angeles, CA, Forum
May 30th, Los Angeles, CA, Forum
May 31st, Los Angeles, CA, Forum
June 3rd, Los Angeles, CA, Forum
June 12th, Montreal, QC, Bell Centre
June 13th, Montreal, QC, Bell Centre
June 16th, Montreal, QC, Bell Centre
June 17th, Montreal, QC, Bell Centre
June 24th, Chicago, IL, United Center
June 25th, Chicago, IL, United Center
June 28th, Chicago, IL, United Center
June 29th, Chicago, IL, United Center
July 2nd, Chicago, IL, United Center
July 6th, Toronto, ON, Air Canada Centre
July 7th, Toronto, ON, Air Canada Centre
July 10th, Boston, MA, TD Garden
July 11th, Boston, MA, TD Garden
July 14th, Boston, MA, TD Garden
July 15th, Boston, MA, TD Garden
July 18th, New York, NY, Madison Square Garden
July 19th, New York, NY, Madison Square Garden
July 22nd, New York, NY, Madison Square Garden
July 23rd, New York, NY, Madison Square Garden
July 26th, New York, NY, Madison Square Garden
July 27th, New York, NY, Madison Square Garden
July 30th, New York, NY, Madison Square Garden
EUROPE / UK 2015
Sept. 4th, Turin, Italy , Pala Alpitour
Sept. 5th, Turin, Italy, Pala Alpitour
Sept. 8th, Amsterdam, The Netherlands, Ziggo Dome
Sept. 9th, Amsterdam, The Netherlands, Ziggo Dome
Sept. 12th, Amsterdam, The Netherlands, Ziggo Dome
Sept. 13th, Amsterdam, The Netherlands, Ziggo Dome
Sept. 16th, Stockholm, Sweden, Globe
Sept. 17th, Stockholm, Sweden, Globe
Sept. 20th, Stockholm, Sweden, Globe
Sept. 21th, Stockholm, Sweden, Globe
Sept. 24th, Berlin, Germany, O2 World
Sept. 25th, Berlin, Germany, O2 World
Sept. 28th, Berlin, Germany, O2 World
Sept. 29th, Berlin, Germany, O2 World
Oct. 5th, Barcelona, Spain, Palau Sant Jordi
Oct. 6th, Barcelona, Spain, Palau Sant Jordi
Oct. 9th, Barcelona, Spain, Palau Sant Jordi
Oct. 10th, Barcelona, Spain, Palau Sant Jordi
- Tickets On Sale, Thursday, Feb. 19th
Oct. 13th, Antwerp, Belgium, Sportpaleis
Oct. 14th, Antwerp, Belgium, Sportpaleis
Oct. 17th, Koln, Germany, Lanxess Arena
Oct. 18th Koln, Germany, Lanxess Arena
Oct. 25th, London, UK, O2
Oct. 26th, London, UK, O2
Oct. 29th, London, UK, O2
Oct. 30th, London, UK, O2
Nov. 2nd, London, UK, O2
Nov. 6th, Glasgow, UK, The SSE Hydro
Nov. 7th, Glasgow, UK, The SSE Hydro
Nov. 10th, Paris, France, Bercy
Nov. 11th, Paris, France, Bercy
Nov. 14th, Paris, France, Bercy
Nov. 15th, Paris, France, Bercy