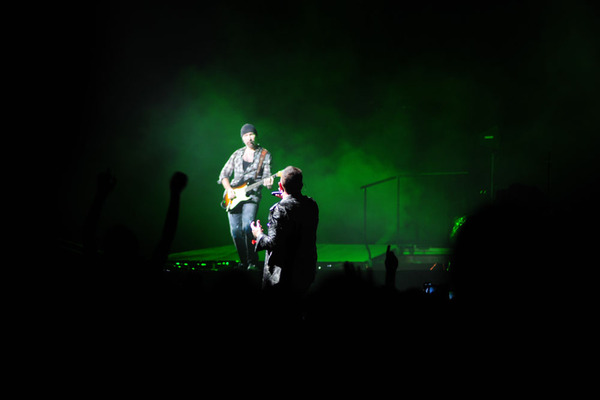 Sir Mick Jagger, Phil Ramone, Kanye West, Rick Rubin all got shout-outs from Bono tonight, and the near 85,000-strong audience made it a night to remember.
Stand-out moment ? Probably when one young man got invited to lap the stage for City of Blinding Lights.
The band also smashed the house record tonight at Giants Stadium. The previous attendance record was held by Pope John Paul II after his visit to the stadium in 1995.
With gig goers in excess of 84472 it was a fantastic night at Giants. Speaking from the stage at the end of the night Bono said, "News just in. We've broken every record for attendance in this stadium - including the Pope. Sorry Bruce - we know its your birthday and all". Before adding later, "I know they're knocking this place down...we probably won't be here again before the wrecking ball but it was a magic place for us as well as the Giants"
Here's what they played. Were you there?
Tell us what it was like and post your photos.
Breathe
Get on Your Boots
Mysterious Ways
Beautiful Day
No Line on the Horizon
Magnificent
Elevation
I Still Haven't Found What I'm Looking For
Unknown Caller
Until The End Of The World
Stay
Unforgettable Fire
City of Blinding Lights
Vertigo
I'll Go Crazy - Remix
Sunday Bloody Sunday
MLK
Walk On
One
Where The Streets Have No Name
Ultraviolet
With or Without You
Moment of Surrender