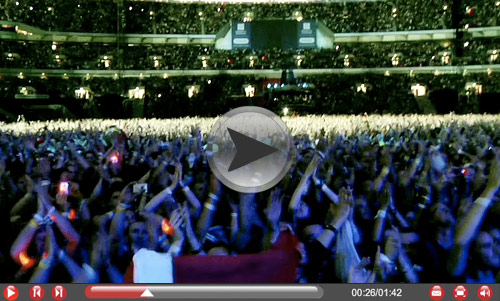 'I think something's going to happen tonight.' predicted Bono, just a few songs into tonight's opening show at Wembley Stadium. It did too. First The Hours and then Elbow, with a particularly winning set, had caught the mood on a balmy summers evening and from the moment Larry opened up Breathe, the momentum barely slowed.
Too many stand-outs to list but our highlights included: a stomping version of 'Crazy' turning the neighbourhood into a disco; the joyful stadium karaoke of Unknown Caller; some breathtaking new visuals in Sunday Bloody Sunday and Walk On; the opening of 'Still Haven't Found' when 90,000 people took over the vocal; Bono reminiscing about his first visit to this city ( 'I slept on Waterloo Station as an 18 year old with a demo of our song Out of Control, the city's been good to us.' ) and a moving dedication of With or Without You
'For Beautiful Eunice Kennedy Shriver'
, longtime friend of the band who died earlier this week.
London shows are usually good and this was a great one - but what did you think? Have you caught your breath? How was it ? Add your reviews below: what was your favourite track, the moment you'll never surrender?
Breathe
No Line On The Horizon
Get On Your Boots
Magnificent
Beautiful Day
Elevation
I Still Haven't Found What I'm Looking For
Stuck In A Moment (You Can't Get Out Of)
Unknown Caller
Unforgettable Fire
City of Blinding Lights
Vertigo
I'll Go Crazy If I Don't Go Crazy Tonight (Remix)
Sunday Bloody Sunday
Pride (In The Name of Love)
MLK
Walk On
Where The Streets Have No Name
One
Mysterious Ways
--------
Ultraviolet
With Or Without You
Moment of Surrender