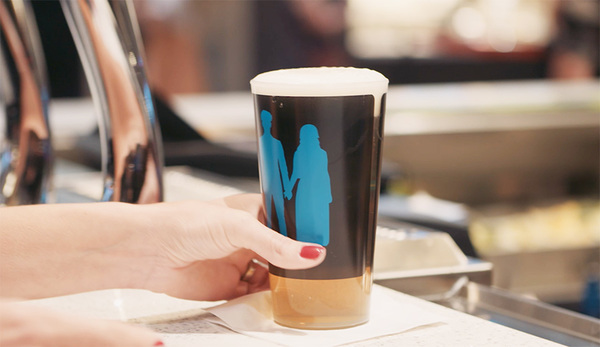 Going Green (Part II)
Cathleen Falsani reports on the rock'n'roll arena show debut for the rentable, recyclable cup.
Been at one of the shows? Maybe you've spotted the r.Cup — a tall, clear, plastic beverage cup, decorated with the cyan-blue-and-black eXPERIENCE + iNNOCENCE logo, that's quickly become a popular keepsake for fans.
Or perhaps you've seen the green-and-white r.Cup stands set up in venues along the eXPERIENCE + iNNOCENCE tour dates or stopped to have a chat with r.Cup staff about the cups.
The r.Cup is much more than just a cup - it's the latest in a series of initiatives aimed at reducing and mitigating the environmental impact of touring with a rock'n'roll show.
"The plastic crisis is now one of the most pressing environmental concerns worldwide," said Mike Martin, who leads the team working to make the eXPERIENCE + iNNOCENCE Tour more environmentally friendly. "Endorsing the implementation of r.Cup at these shows is another example U2 and Live Nation investing in smart, tangible solutions to protect our planet."
The r.Cup is a rentable cup designed to eliminate single-use plastic cup waste. At concessions, when purchasing a beverage, you pay a $3 deposit for a high quality, tour-branded r.Cup to use during the show. At the end of the evening, you can return the cup at any r.Cup return stand near the exits - or to a team member wearing the bright green r.Cup shirt- and get the $3 deposit back. Or, if you prefer, you can take the r.Cup home as a keepsake.
All returned r.Cups are collected, washed, and sterilized, then shipped to future tour stops. The band's goal is one day to see zero waste from single-use plastic cups during any of their concerts.
"Single use plastics— even those made of biodegradable material— is an outdated approach in need of systematic change. With r.Cup we can inspire that kind of change in a way that rewards fans while removing hundreds of tons of plastic from the waste stream," said Martin, who has been working with U2 since 2009 when Live Nation commissioned him to address issues of sustainability on their tours.
"The band's early adoption of r.Cup is already having an impact across the industry as artists such as Bon Jovi, Dave Matthews Band, Phish, Jack Johnson, and others are now looking to implement the program, as are leading venues and festivals including Live Nation Amphitheaters across the country," he said. "U2 and Live Nation continue to be leaders in showing how global tours can address sustainability the right way. r.Cup continues a tradition started on the 360 Tour and joins efforts like offsetting CO2 emissions, donating excess catering supplies to local food banks, working with venues to adopt paper straws and engaging directly with fans on actions they can take."
Find out more about efforts to reduce the environmental impact of touring: 'It's the Little Things'.
Whenever she travels, including frequent trips to see U2 on the road, longtime fan Vanessa Yu of Vancouver, Canada, tries to make choices that promote sustainability and a healthy environment, whether it's carrying a reusable water bottle, not using plastic straws, taking public transportation whenever she can, or booking hotels that have positive "green" ratings or are LEED certified.
"If I can find accommodations that have those, I'm more apt to use them even if the price is a little higher," said Yu, who is part of a team at the healthcare laboratory where she works that advocates for sustainable and waste-minimizing practices in the workplace. "I try to buy products that have that kind of an ethos…in the hotel, I don't let them change my towels every day—simple stuff."
Yu said she was delighted when she heard the r.Cup was available at the eXPERIENCE + iNNOCENCE shows she attended in Las Vegas and Los Angeles. After the first show in Vegas, she wound up with eight r.Cups. "I have a full set now," she laughed, and was quick to add, "But I didn't drink that much beer!" Yu bought a few beverages that came with the reusable cups and collected others.
Adam Phillips, a fan from Portland, Oregon, said he'd heard about the r.Cup before coming to his first show of the new tour at the Forum in Los Angeles earlier this month, and purposely sought out a vendor at the arena who had the environmentally-friendly cups available before he ordered his first beer of the night.
"A lot of us are waking up to the fact that the key to resistance is a resilient earth, and that's why it's so great seeing the band lead with the r.Cup," Phillips said. "Every cup makes a difference."
'Eliminate waste. Generate revenue. Cut costs.' More on the r.Cup.