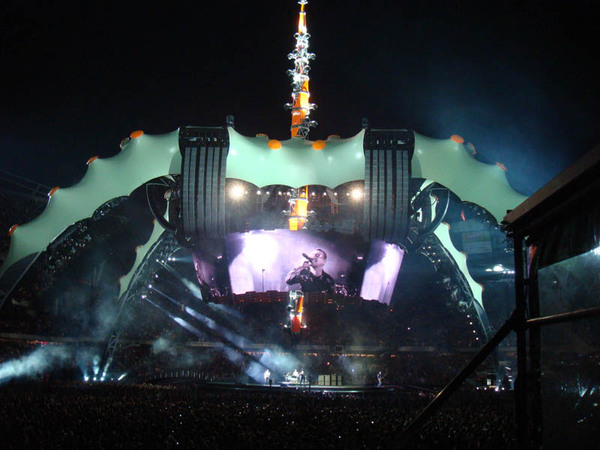 When the lights went down, the green clocks popped up on the screen and we were counting down to U2's first appearance in Chicago since the recording of the live DVD on the Vertigo Tour. In fact the last time they played here outdoors was on PopMart and Soldier Field has been completely redeveloped since then.
Opening up with Breathe, it felt like the final European show in Cardiff was last night, not last month, like the band had never put down their instruments for a break. And when Bono talked about being 'an Irish boy in Chicago' during the opening of Beautiful Day, the reception matched any on the tour to date.
'We Irish like to think we played a part in building this majestic skyline,' mused Bono before 'Still Haven't Found'. 'We were the clouds.. the rain... in fact we are the wind in this windy city...'
'Let me introduce my colleagues, on sky scraping guitar, the man who makes Dr Spock look like Dr Ruth, The Edge. On bass guitar, the man who from an early age knew four strings are better than six, the elegant Adam Clayton. On drums, the thunder and lighting of the band, Larry Mullen Jnr - and when he smiles the sun comes out..'
Take a little trip with Edge and Adam from hotel to stadium in this great clip taking you right up to showtime. Maybe you're on camera.
Were you at the show tonight? What was the moment you'll never surrender?
Add your own reviews and read what others are saying on our Tour pages here
.
Breathe
No Line On The Horizon
Get On Your Boots
Magnificent
Beautiful Day
Elevation
I Still Haven't Found What I'm Looking For
Stuck In A Moment (You Can't Get Out Of)
Unknown Caller
Unforgettable Fire
City of Blinding Lights
Vertigo
I'll Go Crazy If I Don't Go Crazy Tonight (Remix)
Sunday Bloody Sunday
Pride (In The Name of Love)
MLK
Walk On
Where The Streets Have No Name
One
Bad
--------
Ultraviolet
With Or Without You
Moment of Surrender