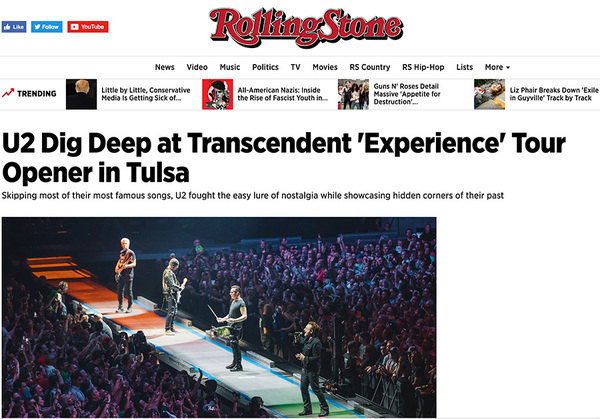 'Message of Love…'
First press reviews starting to roll in of the #U2eiTour opening night in Tulsa, Oklahoma. Some highlights.
U2 Dig Deep at Transcendent 'Experience' Tour Opener in Tulsa, reports Rolling Stone.
'Skipping most of their most famous songs, U2 fought the easy lure of nostalgia while showcasing hidden corners of their past…'
Tanya Sweeney in the Irish Times, reports on a rousing live show in Oklahoma: 'Sometimes it's almost hard to believe that U2 had similar childhoods to the rest of us, but during a powerful performance of Cedarwood Road in Tulsa on Wednesday night the evidence is up there on massive screens in glorious technicolour. Green "Telefón" boxes. Bovver boots. Posters of The Clash and Kraftwerk on the walls. Scramblers, ice-cream vans and Bowie….'
The Times in the UK delivered a 5 star review, calling it 'a message of love to rock Trump's America'.
'They predicted they would ruffle feathers, and U2's performance in Oklahoma delivered far more than music, causing quite a stir among the 18,000-strong crowd… The band, long adored in the US, commenced their world tour using a series of backdrops including images of Martin Luther King, footage of the Ku Klux Klan, neo-Nazis and last year's white supremacist rally in Charlottesville. Wars were condemned, political strategies questioned.
Pat Carty in Hot Press writes of the show's 'surprises'.
'The show really began with the second song, 'The Blackout'. A characteristic of recent U2 albums is that all of the elements might not make complete sense at first, but once you see tracks preformed live, their charms coalesce. 'The Blackout' is a prime example. Here, it works. In contrast, 'Lights Of Home' stood out from the first listen – the band perform it on the main stage, Bono climbing up along an incline of lights, through the screen, to reach the other end, carried along by The Edge's slide guitar. The screen dissolves to a night-time map of Dublin, just in case you're still missing the message, the longing for home. It stands out here too...'
'Love and hope contend with trauma and dread in U2's Experience + Innocence tour,' writes Jon Pareles in The New York Times.
'Positive thinking isn't guaranteed to prevail; the state of the world is too unsettled for U2 to make promises. For decades, the band has treated arenas and stadiums as havens of community through shared songs. This time, the singalongs are mixed with warnings and pleas to save an endangered American dream….