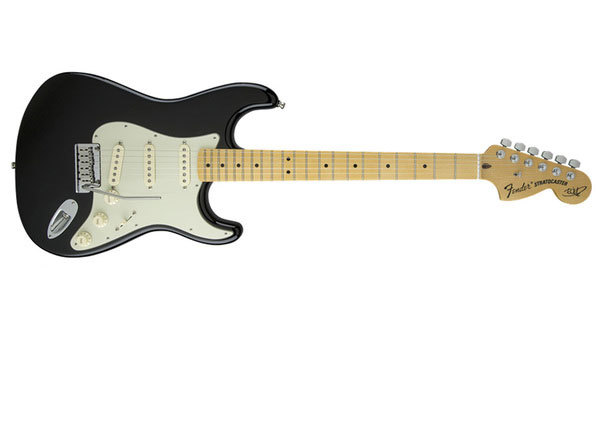 Edge has collaborated with legendary guitar company Fender on the design and production of 'The Edge Signature Stratocaster' and 'The Edge Deluxe Amplifier'.
"The Stratocaster is one of those instruments I've always had an affection for," he explains. "To me, it's a creative tool with a raw personality, a spirit of innovation and discovery that continues to drive my writing and guitar playing."
In a beautiful short film produced for the launch, Edge remembers, as a teenager, hearing Rory Gallagher on guitar ("If I picked up a guitar I wanted it to be able to sound like that." ), joins Dallas Schoo on a visit to the design team at the Fender workshop and muses on what he's thinking when he picks up a guitar: "It's like, OK, I know there's songs in here i just need to find them…"
THE EDGE STRATOCASTER
'The Edge Strat is engineered for top-notch performance FS-1 bridge pickup, stable quartersawn maple neck with "C"-shaped profile and 9.5" maple fingerboard, modern two-point synchronized tremolo bridge with pop-in arm and fully adjustable saddles. The Edge's signature is also included on the front of the large '70s-style headstock.
The elegant guitar combines the classic curves, appointments and effortless playability of the Stratocaster with modern enhancements and materials to create a dream instrument for players and U2 fans alike.'
THE EDGE DELUXE
'The Edge Deluxe signature model is an updated take on the classic '57 tweed Deluxe used to craft the Edge's sonic identity. This amp also produces the tone and articulation of the vintage Fender Deluxe amps that are an important part of the artist's complex multi-amp effects setup.
This 12-watt hand-wired amp features modified circuitry for tighter low-end response and high-impact tone, a 12" Celestion® Blue speaker, custom-tapered volume control and altered component values that tighten up low-end frequency response. The Edge himself also hand-designed the special grille logo badge, which distinguishes the traditional tweed amp as a distinctive tool for guitarists everywhere.'
More at Fender - www.fender.com.