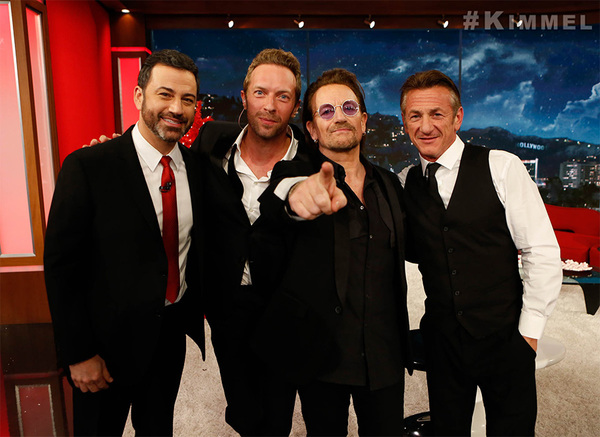 On Jimmy Kimmel Live

Ahead of Friday's World AIDS Day, Bono guested on the Jimmy Kimmel Live (RED) special last night, a show dedicated to raising funds and awareness in the fight against HIV/AIDS.

Joined by Chris Martin - and Sean Penn - for a rendition of Sinatra's "One for My Baby," he talked with Kimmel about worldwide progress in fighting the disease and, on behalf of (RED), received a $500 million cheque from Diddy, symbolising the amount raised by (RED) so far.
"We know how to fix this, we know how to stop this, and we're gonna stop it," Bono said. "By 2020, we keep going, we really believe we can do it."

Former President Barack Obama appeared via video to underline the progress: 'For the first time in history more than half of all people living with the virus are on life-saving medication. Since the peak of the virus AIDS-related deaths have been cut in half….It's not the result of mysterious forces or chance. It happened because countless people working for years chose to make this progress.'

To mark World AIDS Day Bono announced that (RED) was again teaming up with Omaze for the third annual (SHOPATHON) RED holiday contest for a series of once-in-a-lifetime experiences. Including, wait for it, joining the band for a round of mini-golf. Also on offer - a chance to work out with Charlize Theron, go to a movie premiere with Reese Witherspoon, or hang with Diddy backstage at his new show.

Check out all the unique experiences at OMAZE.

Find out more about the work of (RED).