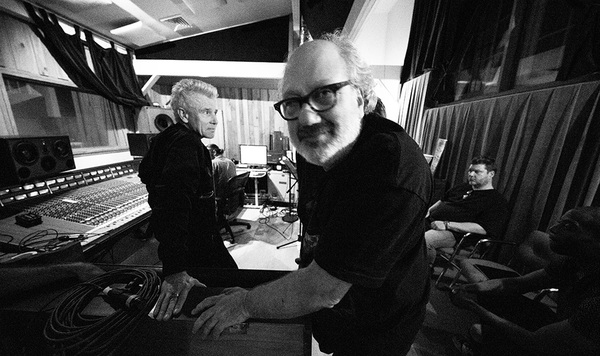 'One of the greatest music men...'
The band have been paying tribute to their longtime friend and creative collaborator Hal Willner, who has died at the age of 64.

'I'm devastated by this news.' said Edge. 'Hal was a close friend and one of the greatest music men of all time.'

'What an extraordinary man, what a gigantic soul,' added Bono 'And all that music and laughter erupting out of it. A brutal punch in the gut. He was never more needed than the moment he left us.'
Over the course of more than forty years Hal became one of the most sought after producers in music. As well as producing acclaimed albums by Lou Reed and Marianne Faithful, Hal was music supervisor on Saturday Night Live since 1981, a champion of music often written off as unfashionable and the person everyone turned to for bespoke live music occasions.
As far back as 2000, Hal was working with Bono on the soundtrack to The Million Dollar Hotel. A few years later he was behind Rogue's Gallery: Pirate Ballads, Sea Songs and Chanteys, producing tracks featuring Bono and Gavin Friday, along with Nick Cave, Lucinda Williams and Bryan Ferry.
When U2 wanted to celebrate Gavin's fiftieth birthday in 2009, they turned to Hal to produce 'An Evening with Gavin Friday and Friends' at Carnegie Hall in New York. Lou Reed, Laurie Anderson, Andrea Corr, Courtney Love, Lydia Lunch, Maria McKee, Shane MacGowan and Rufus Wainwright joined the band to toast Gavin and raise funds for (RED).
As Gavin put it at the time, 'There's always this extraordinary twist and spontaneity that Hal brings - I remember turning up to rehearsals for a 'Harry Smith' tribute to find Little Jimmy Scott, the jazz singer, at the piano with Mary Margaret O'Hara and Nick Cave and a few hours later we were performing it on stage.'

Hal pulled together another stellar cast when the MusiCares MAP Fund hosted a benefit to honour Adam Clayton, raising funds for addiction recovery programmes. What he was most excited about, he said, was an idea he'd had for two performers on double bass to perform an instrumental version of 'All I Want Is You'. It was a showstopper.

Often an audience would be unaware of Hal's musical role behind the scenes, such as the dazzling encore of the band's show at Harlem's Apollo Theater in 2018. A backdrop was raised to reveal the 13-piece Sun Ra Arkestra horn section - all set for Angel of Harlem.

One of Hal's most recent collaborations with U2 is still to be released. In 2017 he joined them in the studio in New Orleans, to record a cover of Bang A Gong (Get It On) - featuring Elton John on piano - part of a tribute album Hal produced to honour Marc Bolan and T. Rex.

One of the greatest music men. A gigantic soul.

'A lot of people love music,' says Bono, 'but very few people are loved by music as much as Hal Willner.'

Photo credit: Ross Stewart