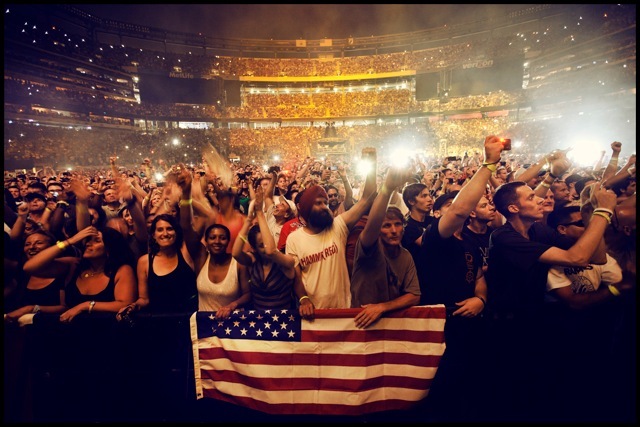 'Give me one more chance, and you'll be satisfied.
Give me two more chances, you won't be denied.
Well my heart is where it's always been
My head is somewhere in between
Give me one more chance, let me be your lover tonight...'
When this tour began two years ago, 'Real Thing' wasn't even in the set, now it would be strange if the show didn't open with it. But nothing surprises with this band. Thirty years ago they were playing the Fast Lane, Asbury Park - before many of the 90,000 people here tonight were even a twinkle in the eye of their parents.
'So much has changed, so much hasn't', mused Bono. One thing that hasn't is 'Out of Control' - in the set in 1981 and in the set in 2011.
'New Jersey, hot summer night, where you gonna take us?' asked Bono. Jumping aboard the U2360 spaceship, you never know where you might be taken but you'll never come back the same.
''Where we gonna go, New York, Connecticut, Pennsylvania… New Jersey.'
The band have had some unforgettable nights in New Jersey over the years, twenty four shows in East Rutherford alone and Bono just happened to have the original set list from that Asbury Park show back in another century.
'The Ocean, 11 O'Clock Tick Tock, I Will Follow, An Cat Dubh, Into the Heart, Another Time, Another Place, The Cry, The Electric Co., Things to Make and Do, Stories for Boys, Boy-Girl, Out of Control, and the encore was… A Day Without Me, 11 O'Clock Tick Tock , The Ocean and I Will Follow.'
Of the fifty-plus tracks they've played on this tour, 'Out of Control' is not the only one from 'Boy ' to have found its way back into the U2360 set list - 'I Will Follow' still sounds like it could have been written yesterday. It was also on the set list in a club in London in 1981 on the night that The Who's Pete Townshend took a young American singer along to meet this new band from Ireland for the first time. They became firm friends and Bruce Springsteen was here tonight, when the band paid tribute again to the late, great Clarence Clemons.
'We're going to say one last goodbye in the company of some of his people, this is for the E Street Band and Bruce of course...'
'At the moment of surrender
I folded to my knees
I did not notice the passers-by
And they did not notice me...'
It was one of the longest sets of the tour tonight, 26 songs, but 'nothing much has changed' as Bono put it before the surprise closing number. 'Four Irish boys, out of control...'
Were you at the show tonight? When were you out of control and when was your moment of surrender?
Write us your own review of the show and upload your photos to our tour pages.