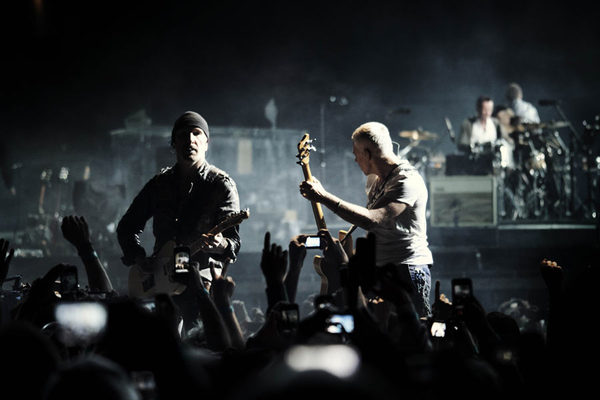 'We love it here, Oakland, San Francisco, you've got a lot of everything. You guys invented the 21st Century, didn't you?'
A beautiful night, tailgating parties in the parking lot, fine warm-up with Lenny Kravitz and the usual storming opening to the show with Real Thing, I Will Follow, 'Boots', Magnificent, Mysterious Ways.... before Bono takes time out to reflect a little on the unique local vibes. (
This
is how U2360FANCAM captured it.)
'I think I understand why you think, and why you act differently,' he says. 'It's music: music shaped the Bay Area and the Bay Area shaped the world.'
An already top-of-the-range decibel reading now goes completely off the scale. 'And the music is still potent,' he continues. 'The ideas are still coming. Don't know if you noticed, but there was a major summit over the Bridge last night, they're calling it the G3 Summit - U2, Greenday and Metallica. In bars.'
Adam and Bono, he reports, were not among the high-ranking delegates at the Summit but Edge is able to report back on the salient agenda items: 'We dealt with the important issues of the day, new touring concepts, we discussed the possibility of the three bands creating their own festival and touring... some great ideas discussed.'
But after the first hour, he concedes, his memory 'gets fuzzy'. Eager for more information, Bono turns to Larry - whose response is characteristically robust.
'What went on at that summit... stays at that summit.'
This response is universally acclaimed and Bono turns to the subject of Lou Reed, who is in the house tonight, at which point Larry breaks into a chorus of 'Perfect Day'... and Oakland goes ballistic.
'Lou, we love you man!' says Larry at the end of his moment on lead vocals, a moment no-one is going to forget.
Bono confirms that tonight 'the great man is walking amongst us' and soon we're into All I Want Is You. Later, during Vertigo, Lou is back in the set when Bono sings a snatch of 'Dirty Boulevard'. And, as in Seattle the other night, Bono also drops into David Bowie's Space Oddity in the outro to Beautiful Day - Commander Kelly brings greetings from space again.
'Imagine a man looking down on us from 200 miles up. Looking down at our beautiful crowded planet. What would he say to us? Commander Kelly?'
As Miss Sarajevo arrives, Bono adds, 'America, you don't have to put another man on the moon... Just bring us back to earth...'
We can't close without mention of Voicheck, who'd travelled almost as far as Commander Kelly to be with us tonight. He's flown from Poland, for 20 hours, and he comes onto the stage to receive the plaudits and be introduced to the band. He is a symbol of everyone.
'Thank you,' says Bono. 'For your love, your support...thank you for giving us a great life...'
Were you at the show tonight ? What was it like when Larry took on the vocals ? When did you realise you were lost in space ?
Add your own review and post your photos on our tour pages.