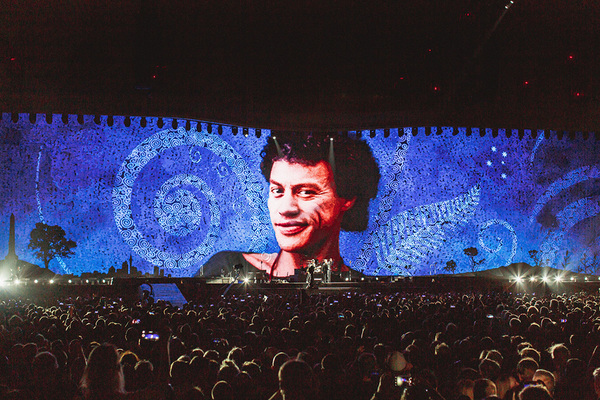 'Run like a river to the sea...'
'The moon is up and over One Tree Hill
We see the sun go down in your eyes.
You run like a river on to the sea
You run like a river runs to the sea…''
"You're about to see one of the greatest things you'll ever see" said Noel Gallagher at the end of a fine opening set with his High Flying Birds. No pressure then, as the band took to the stage, taking The Joshua Tree back on the road with the first of two shows in Auckland, New Zealand tonight.
They paid special tribute to former crew member Greg Carroll, for whom 'One Tree Hill' is named and to whom The Joshua Tree album was dedicated.
'On our first trip to New Zealand a young man from the local crew told us there was something missing from our band. When we asked him what that was, he said me. And that's where we began our relationship with Greg Carroll. We sort of adopted him or perhaps it was the other way around…'
Later in the show, Bono paid tribute to those who lost their lives last March in the terrorist shootings in Christchurch mosques. Some of the survivors of the attacks were in attendance as the huge screen lit up with the names of those who were killed and the band played 'One'.

'There's only one song we can play and you know what it is.'

IN THE PRESS
Stewart Sowman-Lund for the New Zealand Herald - read in full here.
'U2 frontman Bono has paid a touching tribute to his former roadie Greg Carroll. New Zealander Carroll died in a motorcycle accident in 1986, having befriended Bono two years prior and subsequently toured with the Irish rock group. The band are in New Zealand for two massive gigs at Auckland's Mount Smart Stadium - the opening two nights of their Joshua Tree Tour. It's U2's first visit to our shores since 2010. The Joshua Tree Tour sees the band play the 1987 album in full every night, alongside other hits from their extensive back catalogue. Taking the stage a little after 8.30pm, the band opened with Sunday Bloody Sunday from their album War, with Bono promising fans an "epic night of rock 'n' roll" we wouldn't forget. "Thank you for having us back in your country [and] in your lives." But it was Bono's rendition of One Tree Hill, written after Carroll's death, that hit home for the 40,000-plus crowd. "We sort of adopted him, or perhaps it was the other way round," Bono said. "We were very grateful for his companionship over those precious times,,, He was taken from us too soon, but in a way he's still very present." The pre-show publicity for The Joshua Tree Tour boasted about it having the largest high-res LED video screen ever used in a touring show. Seeing it up close really makes you appreciate how much effort goes into staging such a monumental performance.'
—
Alex Behan for stuff.co.nz - read in full here.
'The stadium goes dark, Whole of The Moon plays loudly and the crowd audibly bristle with excitement as U2 walk out one by one. Larry Mullen Jr is first and sits at the drum kit to begin Sunday Bloody Sunday. The band begin small, on the little baby stage that protrudes into the crowd. It's as intimate as a stadium gets, lights are minimal but the sound is pure. Just four guys making noise to a stadium of happy fans. Where The Streets Have No Name begin and the video screens light up. Bono is out of the gate prowling up and down the massive length of the main stage… The screens are devastatingly bright, vivid and clear. I Still Haven't Found What I'm Looking For begins as images of haunting black and white deserts dwarf the band. Bursts of colour and mountain ranges in time lapse hyperrealism as we hear With Or Without You. Oh wow, there's Bono's voice. Still got it. Bullet the Blue Sky, shall we take a moment to appreciate the genius of The Edge? Not only is he controlling that knife edge feedback crescendo and those crunching chords, he's also doing the background whoops on vocals. After years of hearing them on record and perhaps not fully registering, it sinks in what an amazing guitarist he is. The tribute to Greg Carroll comes and Bono speaks of how feel Greg is is still present with the band today. He even attempts a little te reo, did Bono just say e hoa? Launching into One Tree Hill anyone in the crowd who has been holding back til now lets it all out. The blood red moon shines big on the screen and as the song comes to a close Greg Carroll's smile beams at an appreciative crowd….
...Then comes a quick-fire round of recent hits to round out the main set before allowing the crowd reset for a massive, deserved and predictable encore. During Ultra Violet in the encore, names and faces of influential and important women are shown on the giant video screen. There are Kiwis there too amongst the Japanese Suffragettes and Ellen DeGeneres. Helen Clark, Kate Sheppard and our current Prime Minister of course but also Ākenehi Tōmoana, a strong advocate for women from the century before the century before this one. They've done some homework. Before the last song Bono takes a moment to reflect on the events in Christchurch this past March. He speaks about strength and solidarity and shares that some of the people from that terrible event are here in the crowd tonight. He launches into One, and the crowd sing in unison. It's almost like these guys have done this before.'
ON THE SOCIALS
@madfl3a : BOOM! Starting loud! Hit those drums Larry! We've missed ya! Sunday bloody sundaaaay
@u2gigs
Bono is talking to the crowd after Vertigo, saying hello "from Ireland people to island people". Joking now about how he was "diagnosed with megalomania from an early age".
@mysteriousdays
my first thought about #TheJoshuaTreeTour2019 in Auckland: Wasn't the tribute to Greg Carroll just beautiful? so lovely! thank you so much to the U2 team who worked on that
WHAT DID BONO SAY?
"What-a-we got? What do we got for Christchurch tonight?" (During 'Sunday Bloody Sunday')
"This is not a moment to take a word like 'freedom' for granted is it? If you believe in freedom, let's see your light." (during 'Bad")
"Here you still are. Here we still are. What a blessing!" - ('I Still Haven't Found What I'm Looking For')
"Tonight our prayer is that we have one of those epic nights of rock and roll. A night we won't forget. A night to let go of some things and hold on to others."
ON U2.COM / ZOOTOPIA
AJ2 : 'Brilliant show tonight and even though not in the stadium you could feel Bono's emotions coming through the wires loud and clear during "One Tree Hill." "Love is Bigger Than Anything in its Way" was another highlight. Goosebumps hearing a chorus of voices from New Zealand singing it so strong. Looking forward to what they have up their sleeves for tomorrow night'.

Here's the complete set list.
Were you at the Mt Smart Stadium tonight, tell us all about it.