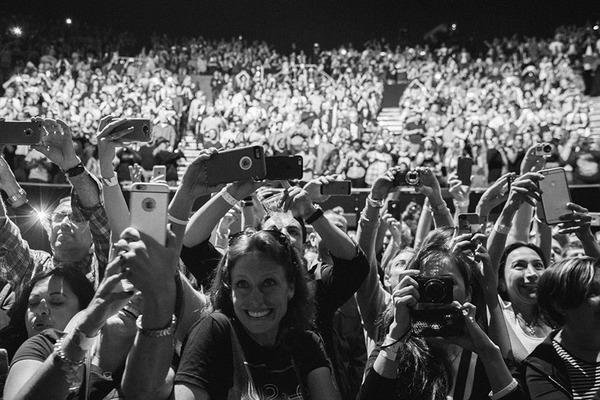 New video, TV interviews, a tour launch, a little busking on the subway, special guests on stage... the touring year that was 2015 was like no other.
Here's thirteen highlights from U2.com over the last 12 months.
'Making Waves'
'I wanted to make a film about what it was like to be a teenager in the early '80s in Northern Ireland.'
In February The Creators Project premiered Aoife McArdle's short film based on Every Breaking Wave.
'Just A Couple Of Scratches...'
'Back on a bike for the first time since his accident...' In May Bono went for a spin in New York City.
Busking on the Subway
'Let's do this, let's play some music...'
The band and Jimmy Fallon put on disguises for a surprise performance in NYC's 42nd St. subway station.
'Amazing...'
'It's almost like I've seen a Broadway play at the same time as I seen a rock concert...'
The first night of the tour and Eoghan McDermott of RTE was in Vancouver to capture it.
'Game Changer'
'As great a leap forward as it was when I saw ZOOTV the first time...'
Noel Gallagher of High Flying Birds, was at the second show in San Jose and told U2.com what he thought of the new production.
'The Lion-Tamers Are Over There...'
'Bring out the camels, the circus has come to town...'
In Vancouver the band talked with Anthony Mason for CBS Sunday Morning.
'Preacher Trading Hearts...'
Jimmy Fallon with the band on stage for Desire in New York City.
'U2 Talkin' U2 To Me?'
'Bonobos, Thedge, Larry Mullen Sr.'s Son & Adam Clay 2000 Pounds...'
Four band members on air at Electric Lady Studios with Scott and Scott for a 'monumental bare all confessional interview...' as they put it.
'Giving It Up For Our Boss...'
'I believe the kingdom come, then all the colours bleed into one...'
What a way to finish up in North America. Bruce Springsteen on stage for 'I Still Haven't Found What I'm Looking For'.
'People Have the Power'
'To dream, to rule, to wrestle the earth from fools...'
It's the track the band arrive on stage to every night and in London Patti Smith was in the house to take on the vocals.
'Tonight we are here...'
'The most visceral and uncompromising show U2 have played in Dublin since War'. Opening night in Dublin.
'We Begin To Forget...'
'This is one of the most incredible experiences i've ever been a part of…'
Oliver Jeffers, visual artist, storyteller and prize-winning children author, is one of the key creatives behind the look of the #U2ieTour production. He spoke to our U2.com subscriber Site - we shared the film with everyone when the tour came to Ireland.
'Back To Paris'
'We want to introduce some people whose lives will forever be part of this city...'
Eagles of Death Metal were the surprise guests as the band returned to Paris, a few weeks after the terrorist attacks.