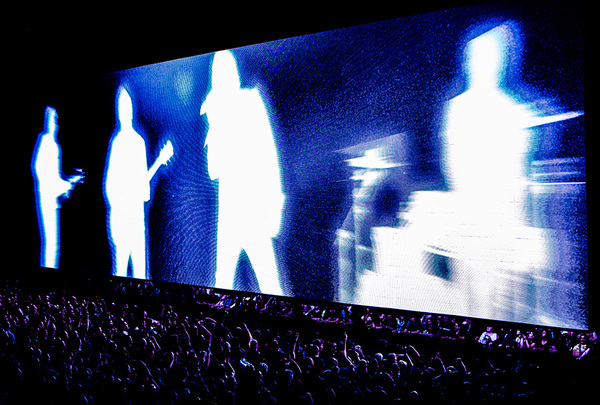 'The house shakes…'
'Dinosaur, wonders why it still walks the earth, yeah
A meteor, promises it's not gonna hurt, yeah
Earth quakes always happen when you're in bed Fred
The house shakes maybe it was something I said Ned…'
When & Where
Monday May 28th 2018, Infinity Energy Arena, Atlanta, GA. Show 13, halfway point of leg 1 of U2eiTour. Exhale… (a little)
Set List
'Mike Mills, right in front of You' shoutout in 'Beautiful Day' and an impassioned few lines from 'It's the End of the World As We Know It [And I Feel Fine]' at the end of 'Vertigo', paying dues to Athens, Georgia local legends, REM.
Here's the full set list from the show.
Social Posts
As fans noted, it was great to get real-time behind-the-scenes insights as @U2 Instagram stories highlighted the U2 crew at work as the show went along in Atlanta :
@atu2 (via Twitter) 'U2's Instagram stories... good tonight with a lot of behind the scenes stuff of crew doin' their job'.
@ifilmbands (via Instagram) 'Ridiculous @U2 show last night! Insanely produced, more like a full on theatrical show-part magic, part mind blowing video, full on rock and roll, kudos to the riggers!'
Fans had plenty to say on the socials on the overall show experience, comparisons made to past U2 tours they have attended :
@bpierznik (via Twitter) : After reflecting for a day following ATL show, I can say that this #U2eiTour was the most authentic and meaningful U2 show in the past 15+ years. Only shows post 9/11 and their early shows (War, Joshua Tree) were as honest and relevant. If you can, go see it.
@CultureNthrills (via multiple Twitter posts) Last night was the 20th time I have seen @U2 in concert. I definitely had some trepidation going into this show… All of U2's tours are unique but this one really is about telling a story about their journey. It was worth every penny to… finally after 27 years see "Acrobat" from Achtung Baby performed live. Such an awesome performance. To sum it up. The #U2eiTour is a beautiful show unlike any other #U2 show I've seen. If you're willing to go on the journey of this show with them it is a pretty incredible one and one that I think will stick with me & make me think about it for a long time to come.
@jeffreyslatton (via Twitter) Great U2 show in Atlanta tonight. We saw an entirely different perspective from the seats and it did not disappoint. One of my favorites of the many I've seen. And added Gloria to my heard songs list.
@tomsmarch (via Twitter) That may be the greatest U2 show I have ever seen. Truly a spiritual experience!
In The Press
Melissa Ruggieri / AJC Music Scene :
If you recall the last time U2 played Atlanta – Georgia Dome, 2009 – you remember the grandiosity of their "360" tour. The city has waited nearly a decade for the band to return, and the reward for this U2 deprivation was a two-hour-plus zinger of a concert at the most intimate venue that could also hold the quartet's eye-popping stage setup, the Infinite Energy Arena in Duluth. The 100-foot-long catwalk shrouded by a "barricage" projecting high-resolution images connected the end stage – clean and open-backed – to the small, circular "E" stage at the opposite end of the arena. The Irish superstars – aka Bono, the Edge, Adam Clayton and Larry Mullen Jr. – marched back and forth on the rising catwalk, performed "The Blackout" as shadows behind the screen and, a dozen songs into the set, unwrapped the most sweaty, fiery segment of the show while crammed together on that circle ("Elevation," "Vertigo" and "Desire"). The setup is an artistic marvel, and even though a version of the screen was used on 2015's "Innocence + Experience" tour (not to be confused with this one, "Experience + Innocence"), it's been enhanced for greater clarity. Few artists can get away with opening a concert with a trio of new songs ("Love is All We Have Left," "The Blackout," "Lights of Home"). But when you're a band with still so much to say, it's not only OK, but welcomed. But, it was the Edge's opening chime of a guitar riff for "I Will Follow" that sent a surge through the packed, sold-out venue Monday night. Bono introduced the song as if they were a new band from Dublin and U2 somehow still played it with the same verve and punch as they did decades ago. Although the show was bookended with material from the current "Songs of Experience" album – U2's strongest since 2000's "All That You Can't Leave Behind" – the band adroitly seesawed with thematic pockets of old and new. Bono shoehorned a shout-out to R.E.M.'s Mike Mills – who was spotted in the crowd – during the eternally inspirational "Beautiful Day" (later, during a face-melting "Vertigo," Bono tossed in a snippet of "It's the End of the World As We Know It [And I Feel Fine]," for an added dose of R.E.M. love) before shifting tone and paying tribute to his mother and his upbringing with "Iris (Hold Me Close") and "Cedarwood Road" as he walked the catwalk to an animated rush of images from his childhood home.
Through it all, Mullen's crisp workout on the high hat and snare drum, Edge's skyrocketing guitar riffs and Clayton's unwavering bass lines were steadfast accompaniments to Bono's robust voice, which still soars with passion and escalates to reach notes you know he'll hit (and he does…every time). Much of U2's story has been shaped by politics, and the band concentrated on communicating messages of peace. A subdued version of "Sunday Bloody Sunday," with Mullen holding the audience rapt by stoically smacking his marching band snare drum on the catwalk, was imbued with messages such as "End Internment" and "Remember the Victims" on the screen. Bono's devilish "MacPhisto" also made a return – with red horns and jagged teeth superimposed on his pasty-white face – to sneer the lyrics of The Rolling Stones' "Sympathy for the Devil" before the band kicked into the "Achtung Baby" deep cut, "Acrobat." "When you don't believe I exist, that's when I do my best work," 'MacPhisto" reminded. As Bono and the Edge stood alone on the back stage for a stirring acoustic version of "Staring at the Sun" – an appreciated reference to the unfairly maligned 1997 "Pop" album – footage of white supremacists in Charlottesville blanketed the screens. The video continued to roll as the Edge defiantly broke into the sunburst opening of "Pride (In the Name of Love"), which resonated even more deeply given the Atlanta roots of Martin Luther King Jr. "I think of the Reverend, down the road, who 50 years ago gave his life up so we might (realize) his dream," Bono said as the Edge and Clayton stood on small platforms amid the crowd, locked into their respective grooves as the galvanizing anthem rang through the arena. The foursome returned to the main stage for a closing, pre-encore pack of songs that included the rousing new "Get Out of Your Own Way" and fuzz-drenched, Kendrick Lamar-cameoing "American Soul." "We thank you for letting us in… into your hearts, into your country," Bono said, with a giant American flag unfurled behind him. And while "Sometimes You Can't Make it On Your Own" would have been a tender inclusion from 2004's "How to Dismantle An Atomic Bomb," the album's other gem (aside from "Vertigo"), the melodically lush "City of Blinding Lights," was more than a suitable consolation as the show headed into its final stretch. In Vertigo," Bono so powerfully cries, "You give me something I can feel." On this night, the audience could relate.
Experience Of The Day
Kristin - (self-styled 'frizz on the left" & @KOLU2lover on Twitter : https://twitter.com/KOLU2lover/status/1001239664295071744) had a brief moment with the singer on the way into the venue… they connected.
Me: "Thank you for 13, that changed my life."
Bono: "That's a special song. Hold onto it so tightly."
What did Bono Say?
"Show us your lights, Atlanta. Show us your light." (before 'Lights Of Home').
"What's it like on a Saturday night? This is MONDAY night!.. Muchos Gracias!" (after a stonkingly well-received version of Vertigo).
"I'm in Atlanta, it's raining but its Summer rain… it's beautiful here. I think its 32 years we been coming here… Its 50 years since the (Martin Luther) King Centre opened.. 50 years.. wow… did you see the thing on the news with the African guy saving that baby.. wow…" (during intro to You're The Best thing About me).
"This might be a moment to meditate on the American Dream… when we think of a Reverend from down the road… who 50 years ago gave up his life up that we might wake up in this dream… 50 years ago, April 4…"

Review On U2.com / Zootopia
danknapp / mich40 :
Such an amazing show last night! SMALL Arena + crowd that hasn't seen the band in almost a decade = LOUD! Hopefully that translates to Atlanta not getting skipped again anytime in the near future! (You wait 30 years for one live Gloria, and 2 come along in a row!).
If you were at the show, add your photos and reviews here.