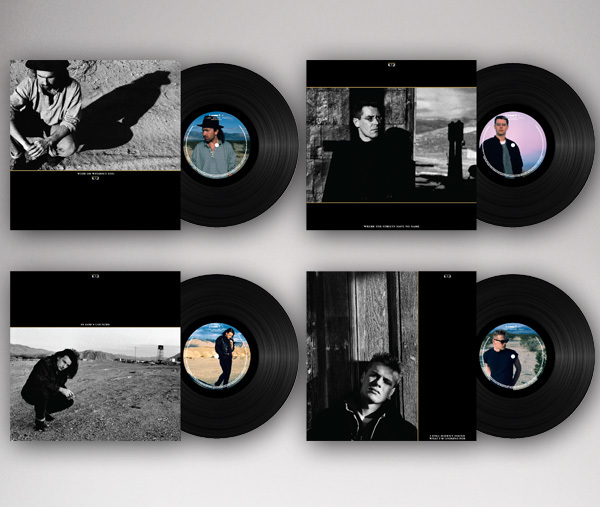 The Joshua Tree Singles Vinyl Collection: 1987 & 2017
There's a good chance many of you could name the four original single releases from The Joshua Tree. With or Without You. I Still Haven't Found What I'm Looking For. Where The Streets Have No Name. In God's Country. (Ok, we named them for you.)

For many fans, those songs were the soundtrack of 1987, two of them worldwide No.1's, and with the new tour opening in Vancouver this month, they're on the playlist all over again.

For our 2017 special gift to subscribers we're bringing together 1987 and 2017, in a unique limited edition collection of four 10" vinyl records. On the A side of each disc you'll find the remastered original studio track, while the B side features a live performance of the same track from this summer's tour.

The label of each vinyl features previously unseen colour portraits by Anton Corbijn and the discs come in a sleeve capturing the original band member portrait from the 7" single cover, backed by a brand new live image from the 2017 shows!

As usual, nobody else will have a copy of this one-off vinyl collection and it won't be for sale online or in store. It's produced just for our subscribers. In the next few months, you'll be able to download all the tracks. We're anticipating physical delivery of the four-disc set from September. In a year that a special edition of The Joshua Tree celebrates its 30th anniversary, this is a unique companion piece…available only to our subscribers.

Here's the track listing.
Vinyl 1
Side A - With or Without You 1987
Side B - With or Without You (Live 2017)

Vinyl 2
Side A - I Still Haven't Found What I'm Looking For 1987
Side B - I Still Haven't Found What I'm Looking For (Live 2017)

Vinyl 3
Side A - Where the Streets Have No Name 1987
Side B - Where the Streets Have No Name (Live 2017)

Vinyl 4
Side A - In God's Country 1987
Side B - In God's Country (Live 2017)
Not a subscriber... Subscribe here