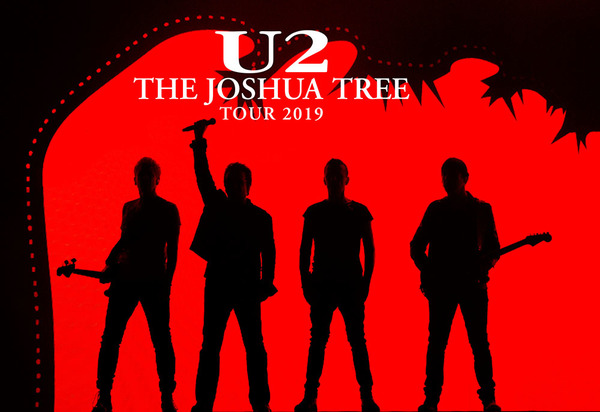 The Joshua Tree Tour 2019
CONFIRMED! The band will play shows in New Zealand, Australia, Japan, Singapore and South Korea. From November.

Rumours have been flying around for a while and today the band went direct to fans via Twitter to confirm some big news.

The Joshua Tree Tour will hit select stadiums in New Zealand, Australia, Japan – and for the first time ever - Singapore and South Korea later this year. U2.com subscriber presales will open this Tuesday 4 June, with the public onsale opening on 11 June.
Here's what Bono and Edge had to say about the news:

Bono: "It's only taken me 30 years to learn how to sing these songs and it's great to be able to say that I've finally caught up with the band. Our audience has given the Joshua Tree a whole new life on this tour. Doing these shows has been very special for us, a lot of emotion… From the despair of how relevant some of the dark songs still are, to the joy, pure fun of the staging… it's quite a ride. And now we get to do it all over again. Auckland, Brisbane, Melbourne, Adelaide, Perth, Sydney, Tokyo, Singapore, Seoul… We're coming for you."
Edge: "We really, REALLY wanted to bring The Joshua Tree to New Zealand, Australia and Asia" added The Edge. "We promised we would and finally, now we can say that we will see you in November... It's going to feel like a homecoming and we are very excited."

Noel Gallagher is also confirmed as support for the New Zealand and Australia dates, saying "We are beside ourselves. The Joshua Tree 2017 Tour was some of the most fun we ever had. It will be both an honour and a pleasure to share the stage with our friends and comrades once again. It's gonna be a ripper!"

The Joshua Tree Tour 2019 will see the band return to New Zealand and Australia for the first time since the record-shattering 360° Tour in 2010; as well as the first Tokyo shows since the Vertigo Tour in 2006; plus what promises to be some very special concerts with the band's first ever visit to Singapore and Seoul. All tour dates on our Tour Page.

Ticket presales to U2.com subscribers begin on Tuesday 4 June and run till Thursday 6 June. There will be a 4 ticket limit for subscribers. (See FAQ's). Information on Japan and South Korea shows below (date and venue information for Singapore coming soon).
NEW ZEALAND/AUSTRALIA/JAPAN/SOUTH KOREA 2019 TOUR DATES:
8 November
Auckland, NZ
Mt. Smart Stadium
12 November
Brisbane, AU
SunCorp Stadium
15 November
Melbourne, AU
Marvel Stadium
19 November
Adelaide, AU
Adelaide Oval
22 November
Sydney, AU
Sydney Cricket Ground
27 November
Perth, AU
Optus Stadium
4 December
Tokyo, JP
Saitama Super Arena
5 December
Tokyo, JP
Saitama Super Arena
8 December
Seoul, KR
Gocheok Sky Dome

The Joshua Tree Tour 2019 kicks off in Auckland on 8 November and will visit Brisbane, Adelaide, Melbourne, Sydney and Perth, before moving on to Singapore, Tokyo and Seoul. Tickets for the New Zealand /Australia shows go on sale starting Tuesday 4 June 2019. U2.com subscribers will have first opportunity to purchase tickets starting Tuesday 4 June through Thursday 6 June. In a first for any artist performing in New Zealand and Australia, and to ensure fans have the best access, stadium floor tickets for all the band's NZ/AU shows will be paperless with delivery via mobile devices 72 hours prior to the applicable show. There will be a 4 ticket limit for subscribers.
In Japan reservations for U2.com subscribers will begin on Tuesday 4 June. The pre-orders for PIA and ePLUS begin Friday 14 June with final tickets for both performances on sale Saturday 20 July.

In Seoul, tickets for U2.com subscribers will be available starting Monday 10 June with tickets on sale Wednesday 12 June.
"Electrifying" (Daily Telegraph, 5/5 stars)
"In scale, ambition or impact… U2 are bulletproof." (The Independent)
"They are a live act simply without peer…." (Rolling Stone)