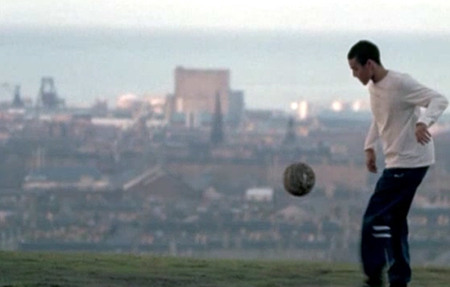 With a particularly compelling World Cup underway in Brazil at the moment, we figured it was worth a reminder of where the band and the beautiful game cross over.
On the other hand, it might just be an excuse to invite you to post your comments (below) about the best team so far, the finest player... and which country will lift the trophy.
As far back as 1990, Larry Mullen Jnr produced 'Put 'Em Under Pressure', the official song of Ireland's national team when they played in the
1990 FIFA World Cup
.
A little over a decade later, when the band played
Slane Castle
on the Elevation Tour, Ireland's victory over Holland (a vital qualifier for the 2002 tournament in South Korea and Japan) was shown live on giant screens ahead of the show. Bono thanked the Irish team for being 'the greatest support act we could have had'.
Around the same time, ITV's The Premiership became the UK's leading weekly football show (displacing BBC's long-runing Match of the Day) using a remixed version of 'Beautiful Day' as signature tune.
For the
2006 World Cup in Germany
, FIFA invited the band to voice a series of short films promoting football across the US - each one set to a soundtrack of a U2 song. 'Once every four years a ball does the impossible...' as Bono put it.
'Once every four years a ball does the impossible...'
And finally, in a slightly different vein - from our U2.com subscription site - how could we neglect this
historic footage from the Vertigo Tour when the crew had their own football tournament on the hallowed turf of Soldier Field, Chicago
. Some silky skills from the 'Merchandise All-Stars' in their match against the 'Lite Weight Lighting Boys'.
Add your comments below - or join the thread in
the Zoo
.