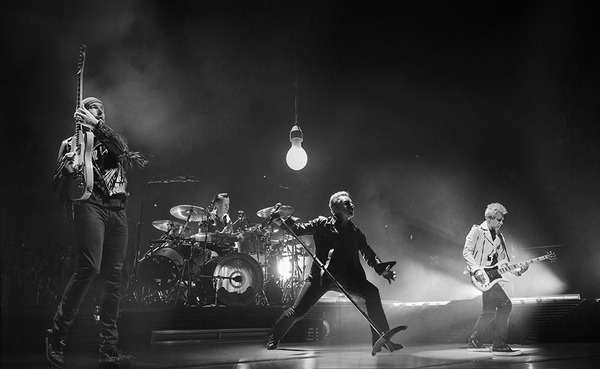 First of two shows in Denver, Colorado as the U2ie Tour leaves the West Coast behind and heads into the heart of America.
It was 32 years ago - and a day - that there was a little bit of thunder and lighting in this part of the world and the band were here for another show. That was the night they played Red Rocks and recorded 'Under A Blood Red Sky' their 1983 live album. There's a snippet of John Denver's Rocky Mountain High at the end of Electric Co and Bono still has the memory in mind during Sunday Bloody Sunday, 'Thirty two years away... yesterday.'
There's more past in the present tonight. Adam has been wearing classic punk rock t-shirts on stage for the opening shows but tonights is different, bearing the date 'March 28, 1981'. At the end of the evening the mystery is solved, turns out it marks 'the first time we came here, mere children'.
'This is the symbol of surrender,' says Bono, holding both arms high during I Will Follow. 'The symbol of the night. From us to you. It's funny how you can't surrender when you have a phone in your hand...'
Anyone catch some background reading to take home tonight? @timneufeld on twitter noticed that 'The Master and Margarita' By Mikhail Bulgakov was one of the books thrown from the stage during Raised By Wolves. There's lots of chat about those books. Tell us in the comments below if you caught some further reading... and what it was.
'Pride (In The Name of Love'), arriving after 'Hands' has taken us out of 'Bullet The Blue Sky' is proving one of the most dramatic moments of the show. Tonight, thanking the people who brought peace to Ireland ('No-one won, that's why everyone won...') there's a special mention for the support of America in the peace process and a shout-out to Gary Hart, one-time Senator and now US Special Envoy To Northern Ireland - who's in the house tonight.
A new prop in 'Bullet' spots @LyaWodraska & @WTSHNN on twitter. ''Bullhorn is painted up like an American flag'. Get the feeling this prop might be a keeper.
Were you at the first show in Denver? What was your highlight of the night? How did the show compare to others you've seen? Post your own review and add your photos here.