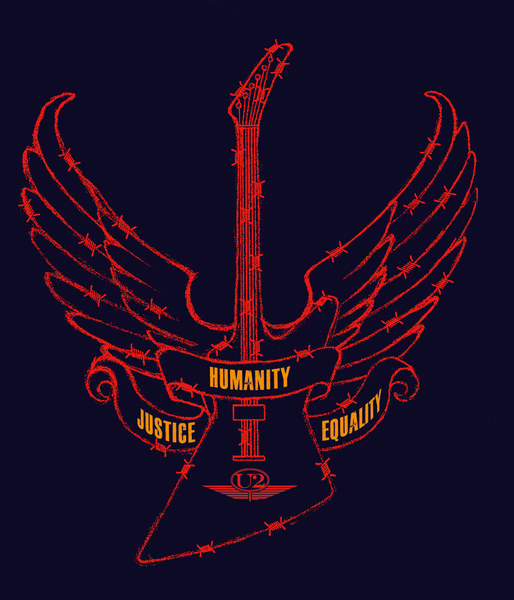 For two decades the world's top artists and bands have collaborated with Hard Rock International as part of the brand's Signature Series programme, helping raise millions for good causes.
Today Hard Rock launches its
U2 Signature Series: Edition 30 T-shirt
in support of human rights around the globe.
Through a partnership between EDUN LIVE and Hard Rock, the limited-edition shirt will be available in stores and
online
, with 15% of the retail price benefitting the work of Amnesty International in campaigning for human rights worldwide.
'I hope this T-shirt generates loads of cash for Amnesty International and their tireless work towards the release of prisoners of conscience all around the world,' said The Edge. 'Plus there's a guitar on it - so it's a win-win as far as I'm concerned.'
Hard Rock's U2 Signature Series: Edition 30 T-shirt
features an image of an electric guitar with angel wings, emblazoned with the words 'JUSTICE', 'HUMANITY' and 'EQUALITY'. A barbed wire is seen wrapped around the neck of the guitar. The back of the T-shirt bears the signatures of each member of the band.
'We are thrilled that U2, Hard Rock and EDUN have generously offered to support Amnesty International in this high-profile way,' said Thomas Schultz-Jagow, Campaigns & Communications Director, Amnesty International. 'We have a history of working with all three, and the combined power of us all coming together on this project will make a huge difference by raising awareness of our human rights work around the world.'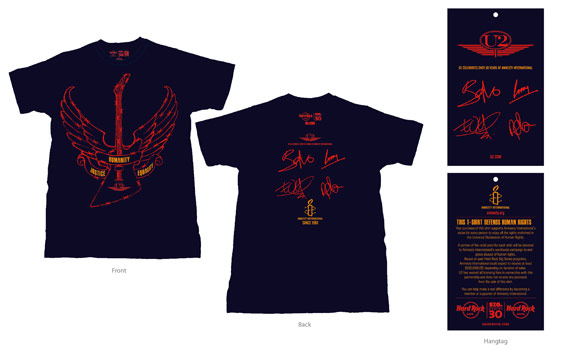 The new T-shirt will be
available online
and at Rock Shops at Hard Rock Cafe locations in New York, London and Dublin from today, to coincide with International Human Rights Day. It will be available in Hard Rock Cafes, Hotels and Casinos worldwide beginning in February 2013. The U2 Signature Series T-shirt is printed on a navy blue EDUN Live T-shirt made from 100% African cotton and is available in men's sizes.
More on Amnesty International
here
and on EDUN Live
here
.