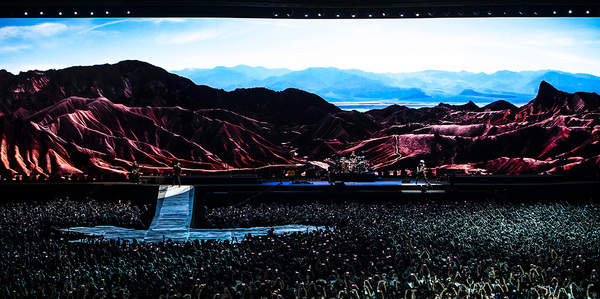 'To Justice and Joy…'
'For human rights
For civil rights
For those who protect those rights, like Amnesty International… we sing!'
Quite the reception for 'Pride (In The Name of Love)' tonight, carrying special resonance for all those engaged in the struggle for human rights.
'Dr King… Keep us faithful to justice and joy… to community.'
Playing for the first time in Singapore, this is one of four debut appearances in different cities on this tour… and a show that took off from the get-go.
'Thank you Singapore for your patience… it's only taken us forty two years to get here.'
Even the band seemed taken aback by the sheer passion of the capacity Singaporean audience in the National Stadium.
'That's something special, thank you.
'We had no idea it was going to be like this, thank you...'
From Sunday Bloody Sunday to One, this was a show to remember.
IN THE PRESS
Ramesh William for Channel News Asia :
'Four decades and many milestones on, U2 wrote a stirring new chapter in the unforgettable fire of their story with a first Southeast Asian concert on Saturday (Nov 30). The seventh stop of the third Joshua Tree Tour finally reached Singapore; and from start to finish the celebrated quartet went helter-skelter for a mesmerised, almost disbelieving crowd at the National Stadium. With the tour now several weeks in, and the set list from their Australasian leg widely circulated, there was still a raw thrill to be had when Larry Mullen's iconic drum intro for Sunday Bloody Sunday thundered the evening open. The revolutionary theme continued with another War classic New Year's Day for their third song of the night, before their sing-along live favourite Bad as Bono raced into … well … full Bono mode. The frontman, 59, was engaging right from the get-go, interacting playfully with the crowd – fully aware of the historic nature of the occasion. "Thank you for your patience," he told the sell-out crowd. "It only took us 42 years." This was U2 in their element, an outfit whose identity was forged on the road – in snug venues in the UK and in open arenas in North America – in the years preceding The Joshua Tree.
Stripped of previous excesses from the ZOO TV, PopMart and 360° eras, the sparse set with a stunning near 50-metre screen allowed for intimacy in a setting that held about 40,000 people. With fierce flashes of red and gold, and black and white, this felt reminiscent of U2's Live at Red Rocks: Under a Blood Red Sky – their classic concert film from more than 35 years ago. As images of Joshua trees hung on screen, the evening continued with a progression of epochal tunes from The Joshua Tree and Rattle and Hum. Where the Streets Have No Name; Bullet the Blue Sky; I Still Haven't Found What I'm Looking; Pride (In The Name of Love); all performed with trademark exuberance. The songs were written at a time when the band was confronting an America in the throes of change. Unfortunately, the resonance of those lyrics is just as relevant today...'
ON THE SOCIALS / ZOOTOPIA
@amubalt : Interesting people watching while in merch line. First U2 show I've attended where whites are very much in minority. Tons of Muslim women wearing hijabs. This is already up there with Joburg 98 for coolest @u2 show experience.
@DaveHutagalung :Christmas came early this year. Such an amazing evening with the boys of U2. This Joshua Tree 30 years anniversary concert was awesome....
@mikeyllorin : My legs are jelly and my back is the Living Death but omg that was just the best. Just. The. Best. Thank you Bono, Edge, Adam, Larry, the whole crew, and the city of Singapore. #U2Singapore was pure magic.
@dmway : It's wonderful to hear Bono be so genuinely awed tonight - even better that the crowd has made him/them feel that way.
WHAT DID BONO SAY
'Tonight we come as pilgrims to your city…looking for some illumination in this city of bright lights'
'Our first time here… let's turn this concrete place into a Cathedral… let's see the lights of Singapore… on the inside'
'Light up light up.. as if you have a choice
Even if you cannot hear my voice
I'll be right beside you there' (snippets of 'Run' by Snow Patrol during Bad)
Here's the complete set list and if you were at the Kallang SG tonight, tell us all about it. Add your own review and photos on our tour pages.