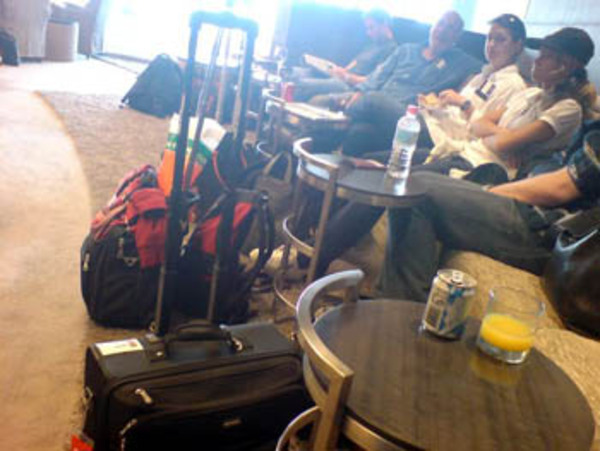 Within the bands entourage (certainly by comparison to the crews clockwork scheduling) travel departure times are often a little loose. This morning was especially so, due to three contradictory memos which had been emailed out last night and this morning. I'd gone to bed having read the one which had us leaving latest, then woke up to the one which had us leaving earliest so I had a bit of a panic run around to get packed and out of the door. Were flying on a regular commercial airline to New Zealand, which always comes as a shock to the system after the joys of private aviation. (I tell you, once youve got used to driving directly across the tarmac right up to the plane and getting on, the very idea of traipsing through an airport terminal and having to deal with security, queues, and so forth becomes quite disorientating.) However, somehow we coped with having to mingle with the unwashed masses and made it onto the flight. We had a whole business class cabin to ourselves on Air New Zealand, which has very comfortable but wildly over-designed flat bed seats. They are set into little booths with flaps and shelves and buttons and things which pop up and down all over the place, resembling a Heath Robinson battery chicken farm. You can imagine two dozen of us playing with all the features in unison

Auckland was cool and windy on arrival, so much resembling Ireland that its hard to believe that the two countries werent manufactured in the same factory. We headed into the city driving past One Tree Hill en route, (where we spotted a restaurant called 'One Tree Grill', ha ha) and pausing briefly to look at Francess high school (Frances, our press officer, is from here), but no sign yet of a blue plaque for her.

I ended up staying in by myself for the evening, even ordering room service, which is most unlike me (I always feel like Billy No-Mates, sitting in my room, eating by myself). However, tonight I really quite enjoyed it. Id nicked a DVD from Frances - the Ricky Gervais Extras TV programme, which Id never seen - so thought Id watch an episode or two. In the end I watch the entire series, which (given the time zone change) finally put me in bed at 4am. Time zones are really no help sometimes.