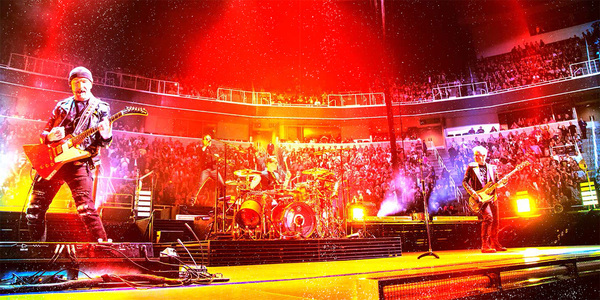 Twenty Three Live
Anyone predict The Troubles? Or The Crystal Ballroom?
Bet you didn't...but here it is, the complete tracklisting for our subscribers-only double CD 'U2 Live Songs of iNNOCENCE + eXPERIENCE'.
A live album of innocence and a live album of experience.
It's now mixed, mastered and making its way through the pressing plant.
And here's the first selection of previously unseen images from the beautiful photographic collection, that comes with this special release.
More details on the way. Become a U2.com Subscriber.
'U2 Live Songs of iNNOCENCE + eXPERIENCE'.

U2 Live Songs of iNNOCENCE
The Miracle (of Joey Ramone) - Live from Madison Square Garden, New York, 27th July 2015
Iris (Hold Me Close) - Live from Bell Centre, Montreal, 6th June 2018
Cedarwood Road - Live from AccorHotels Arena, Paris, 7th December 2015
Song For Someone - Live from TD Garden, Boston, 14 July 2015
Raised By Wolvess - Live from The Globe, Stockholm, 22nd September 2015
Invisible - Live from Air Canada Centre, Toronto, 6th July 2015
The Troubles - Live from Rogers Arena, Vancouver, 14th May 2015
California - Live from United Centre, Chicago, 2nd July 2015
Every Breaking Wave - Live from United Centre, Chicago, 28th June 2015
The Crystal Ballroom - Live from TD Garden, Boston, 14th July 2015
Volcano - Live from 02 Arena, London, 2nd November 2015
U2 Live Songs of eXPERIENCE
Love Is All We Have Left - Live from NYCB Live, Uniondale, 9th June 2018
The Blackout - Live from SSE Arena, Belfast, 28th October 2018
Lights Of Home - Live from Royal Arena, Copenhagen, 30 September 2018
Landlady - Live from Mediolanum Forum, Milan, 12th October 2018
Red Flag Day - Live from Lanxess Arena, Cologne, 4th September 2018
Get Out Of Your Own Way - Live from Madison Square Garden, NY, 1st July 2018
American Soul - Live from T-Mobile Arena, Las Vegas, 12th May 2018
Summer Of Love - Live from Barclaycard Arena, Hamburg, 4th October 2018
You're The Best Thing About Me - Live from The Forum, Inglewood, 16th May 2018
The Little Things That Give You Away - Live from Olympic Stadium, Rome, 15 July 2017
Love Is Bigger Than Anything In Its Way - Live from Mohegan Sun, Uncasville, 3 July 2018
13 (There Is A Light) - Live from Ziggo Dome, Amsterdam, 8th October 2018