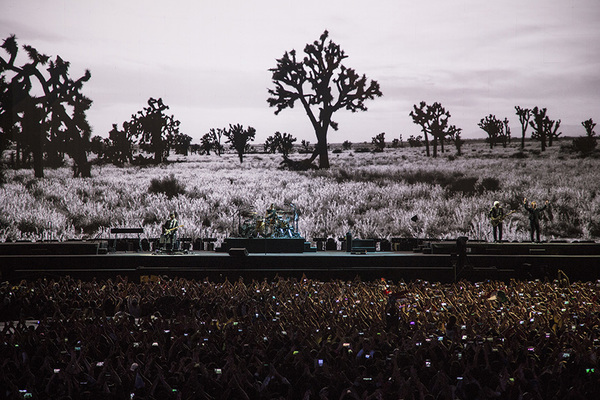 When & Where
Tuesday, October 3rd 2017, For Sol, Mexico City. Night 42 of #U2TheJoshuaTree2017 Tour.
After the conclusion of U.S. shows last month, as friends from fansite atu2.com noted, this is the first visit to Latin America this time around. South of the border, the Coda of The Joshua Tree live has begun. (*coda - "concluding passage in a musical composition," from the Latin 'cauda', "tail of an animal.")
The tail of the animal.
Set List :
Act 1 : Sunday Bloody Sunday, New Years Day, Bad (during which Bono called out to "sisters, brothers, cousins, aunts… spirit of Mexico City", and joined the crowd in singing a snippet of the popular 'Ay y Ay Ay' Mexican / Spanish love song - 'Cielito Lindo'), concluding with Pride.
Act 2 : The Joshua Tree full album
Act 3 : Beautiful Day, Elevation, Vertigo, You're The Best Thing About Me, Ultra Violet (Light My Way). One, Spanish Eyes.
Social posts
@VirgilioRuan (via twitter)
'Beautiful (Lindo) day" con un guiño a "Free Falling" de Tom Petty. U2 emociona en México'
@romanticadi (via twitter)
'Thanks a lot for bringing our souls happiness and hope.The hands of friends MÉXICO LOVES YOU'
@maxtsukino (via email) :
'The show was great - …one of those that proves that U2 shows are something special and why (U2) is the band that matters…'
@operadormx (via twitter)
'Sencillamente no hay manera de ver a @U2 sin soltar una lagrimita,recuerdos,increíbles canciones,memorables!! #U2TheJoshuaTree2017 gracias! '
(translated : 'There is simply no way to see @U2 without dropping a tear, memories, incredible songs, memorable !! # U2TheJoshuaTree2017 thank you!' )
If You Had To Pick One Song
Spanish Eyes. "lets try something… could be a bit shit… lets try it!… this was a B-side on The Joshua Tree… we tried it in rehearsal it was pretty shit.. I mean the way we played it! the song is AWESOME!"
Tour debut for full band / full song version of Spanish Eyes…

What (else) did Bono say :
"The Irish and The Mexicans are kindred spirits… yes we are… we're survivors, we're innovators, we're travellers… but above all else we're fighters".
"We're so honoured to be with you in this moment - en este momento".
"Incredible women have always led the way in this country. We've seen them on your streets lately… women and men, sisters and brothers… people working on the streets after the earthquake here in the city and out into the country… sisters and brothers…This country has been through a lot in the last few weeks but over the years… (theres) nothing you can't do when your work together as one".
"Take the lights down again.. and think about everyone who lost their life… back to that moment… the moment that we will never forget… mucho gracias"
Review on U2.com
Frank_Delgado_Chong
"Viva México.....Viva México!!" A magical night. A night to remember. Thank you guys for dedicating tonight's show to all the people than banded together as ONE during the recent earthquake in Mexico City and other states. Thank you for helping those in need here, that lost their homes and even loved ones... And yeah, thank you for those beautiful "Viva Mexico...Viva Mexico!!" ending lyrics in #One #TheJoshuaTree2017 #MexicoCity
Were you at the show in Mexico? Tell us all about it. Add your own review and photos on our tour pages.