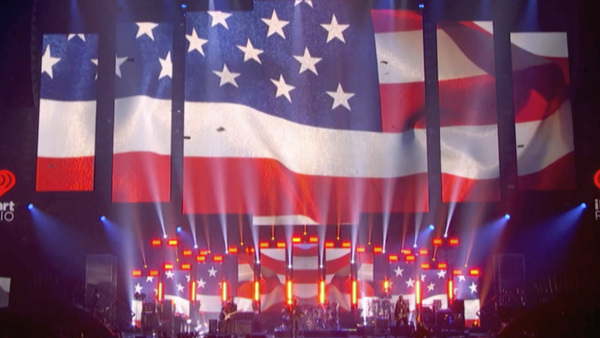 'What do you have to lose?'

Cathleen Falsani was in Las Vegas to see the band in a year of election. (Were you at the show or did you hear it on the radio or online? Add your reviews in the comments below)

'Some friends know us better than we know ourselves. They're our biggest fans, the ones who see us as we are, and, more importantly, who we are meant to be. And when we miss the mark or sell ourselves short, those friends—the very best kind—call us on it.

For America, U2 is that friend.

As the band took the stage at the T Mobile Center in Las Vegas Friday night and launched into a barn-burning rendition of "Desire," its decades-long fidelity and friendship with America was on vivid display in (literally) red, white, and blue.

Vegas is the perfect reflection of "Desire," that paean to excesses that aren't, of course, a purely American provenance, but which are celebrated without apology in this city where Main Street is "the Strip," and landmarks are casinos that bear the names of oligarchs.

Trump, for instance.

Friday night, where the band headlined the first day of the iHeartRadio Festival, as Bono sang about the "preachers stealing hearts in a traveling show" and "promises in the year of election" huge American flags adorned the jumbo screens behind the band, and then the face of Donald Trump, the Republican candidate for president of the United States, appeared, while fake "Trump dollar" bills dropped from the ceiling onto the sold-out 20,000-strong crowd.

"The American dream is dead," Trump said in a video clip. "What do you have to lose?"

Bono answered: "EVERYTHING!"

Throughout the band's eight-song set—"Desire", "Vertigo", "Elevation", "Beautiful Day", "Pride", "One", "Every Breaking Wave", and "I Still Haven't Found What I'm Looking For"— Bono reminded the audience of the critical moment in the world history in which it stood.
"More than ever, we need the spirit of Dr. King. More than ever, we need the spirit of nonviolence. Not just across this land, but across the world," he said during the band's performance of "One," which featured a clip of Dr. Martin Luther King Jr.'s 1968 "mountaintop" speech where the great Civil Rights leader says, "I want you to know tonight, that we, as a people, will get to the promised land!"
"We remember that peace is not just the absence of violence," Bono told the crowd. "Peace is love organized. So get out and vote, whoever you're voting for."
Not everyone—including the woman standing behind me at Friday night's show who yelled "Shut up and sing!"— wants to hear a rock star talk about politics (or anything else of substance). It's a fact not lost on the band, least of all its lead vocalist.
"Look, we're Irish people—we can't tell you who to vote for," Bono said during a pre-show interview with Adam and iHeartRadio's Elvis Duran. "But we can say that it is very important to the whole world who sits in the Oval Office. We can say, look, it just might be going too far in a really difficult moment in the world's history, to have someone with zero experience and capable of — we all, I mean, I am certainly capable of putting my mouth in it, but I haven't got my finger on the nuclear arsenal.

"Or anyone's arsenal," Adam deadpanned.

On Sunday U2 celebrated its 40th birthday as a band—birthed in Larry Mullen Jr.'s kitchen on September 25, 1976. Not everyone will recall where they were on that historic day, but I do because it was my 6th birthday. While I was in America digging into a Holly Hobby-themed birthday cake, Bono, Edge, Adam, and Larry were teenagers beginning to dream about what their musical future might hold. For them. For us.
For most of my very American life, U2 has not only been the soundtrack, it has been one of the most important and consistent conscience-raising, educating, and prophetic voices along the way. From the environment, human rights, apartheid in South Africa, the disappeared in El Salvador, and the Troubles in Ireland, to the wrongfully imprisoned, quiet heroes of justice, the tyranny of AIDS and extreme poverty, or the plight of refugees—U2 calls us to be our best selves.
"Vote for someone that holds sacred the idea that a man or a woman is not defined by his or her ethnicity or religion," he said, thanking the audience for "listening to some Irish guys who may be stretching your tolerance for freedom of speech."
Nearing midnight on the Strip in Vegas, as the band began to play "One," Bono reminded us again about who and what America is: "The best idea the world has ever had."

Cathleen Falsani is an American journalist, author, and longtime ally of the ONE Campaign, where she serves on the organization's advisory board for girls and women.