'Love Is All We Have Left'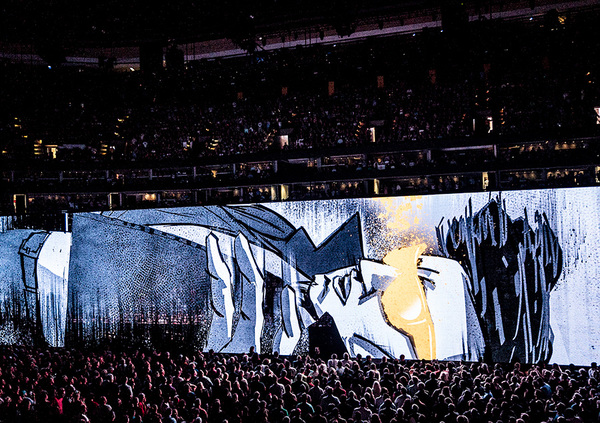 'Nothing to stop this being the best day ever
Nothing to keep us from where we should be
I wanted the world but you knew better
And that all we have is immortality ...'
When & Where
Friday June 22nd 2018, TD Garden, Boston, MA. Second and final night in this city on a hill, show 23 of #U2eiTour.

Set List
All Because Of You returns to 5th spot, back after missing one show. Here's the full set list
U2.com / Zootopia Reviews
Andrew William Smith was at both nights in Boston and he sent us his take of the U2eiTour experience x 2 :
'U2's two-night stand at the TD Garden brought two beautiful days of intense love and liberty, adding a rock and roll revival to the already beautiful beginning of summer in the American northeast.The band more than surpasses any lack of surprise (in the setlist) with reliable surges of polish and passion. The opening and closing tracks of the 2017 album Songs of Experience provide the brackets and bookends of the night, from the prayerful lure of "Love Is All We Have Left" to the powerful lullaby of "13," the concert is a complete concept, rooted in the new record, with highlights across the catalogue, minus The Joshua Tree, which gets a rest after last year's victory lap. After rocking hard from inside the screen on Blackout and making Boston home with "Lights Of Home," after blistering and blazing through "I Will Follow," "All Because Of You," and "Beautiful Day," the "innocence" portion of the journey took us back to Dublin in the 1970s with "Iris" and "Cedarwood Road."
Because Boston got two shows, it got two sizzling shots of "Elevation" and "Vertigo," it got two days in the circus tent with a disco ball, that strange place of the small stage as clown car, that place with "experience" gone wrong. Boston also got assaulted by two different MacPhisto speeches and two different attacks of the "Acrobat," a kind of holy grail for hardcore fans that does not get close to old after multiple listenings live. With the Jagger references at Boston 1, we are tempted to rename this character Mick Phisto. The devil disguise continues to warn us about a world that cages children and spies on itself. Living in this world is like putting the cold war in a microwave, we were warned. As playful banter between Bono and Edge blurs into the psychedelic folk of "Staring At The Sun," this still cannot prepare the crowd for the shocking images of angry racists from Charlottesville. Three decades ago in a conversation with Rolling Stone, Bono warned Americans that their beautiful vulnerability had a potential problem, making us "vulnerable to manipulation, vulnerable to what I call the new fascism," before concluding "this is not just a sign of our times but a warning for times to come." As we in the USA are on the cusp of that nightmare prophecy coming true, U2 continues to turn up the volume on "Pride," saying this vision of America must overcome. Always the lyrical master, Bono slips in slight word changes to "Pride" to fit the times. The speech in the middle of the song has become one of the best parts of the entire show. Bono reminding the crowd of the Georgia preacher's doctoral studies at Boston University. The American dream is for people who dream awake, with eyes open, he said on night two. But on night one, he pleaded with dreams, "Let's just get something right. Jesus said suffer the little children to come unto me, not make the little children suffer. Okay!" By the time the set returned to the newer songs like "Get Out of Your Own Way" and "American Soul," we were an arena-sized choir ready for the actions of inclusion that this diverse church of American U2 fandom implies. "City of Blinding Lights" has people singing along, because by this point, we all look beautiful. Some people even sing during an emergency bathroom break, not losing a beat from the show as it winds down. "One" remains a unifying encore, as Bono resists being on either side of the current debates, begging us to find one thing on one side of love and unity. "Love Is Bigger Than Anything In Its Way" gets bigger and stronger as the tour continues, one of the many hopeful gems from the new album that translates incredibly live. And then another show comes full circle, as the first leg of this tour closes in on its conclusion. Fans sing into the streets outside the TD Garden as a cooler air has settled over beautiful Boston after a beautiful day.
On The Socials
@k_now_waite. 'My 11 yr old thinks YTBTAM is about a son and his mom. I kinda agree. My kids are the best thing about me and the kind of trouble I enjoy.'
@sloves90_615. 'First ever @U2 concert for me last night. Great story tellers. Every aspect of the show was incredible. An unbelievable amount of passion was put into their show. Ears are still ringing, that means it was a good show.'
@BosFriend_4u. 'Tonight's @U2 concert in Boston was a tour de force of dramatic visual art, music and uplifting politics. Go see this show!'
@BackoftheHead. 'Thank you @U2 for #U2eiTour #Boston. It was deeply joyful and meaningful to hear your music, especially Pride, Elevation, Sunday Bloody Sunday, City of Blinding Lights, and One again. Soundtrack of my life, as they say.'
Experience(s) Of The Day
saraspillane (via Instagram). 'Thank you, @U2 for an unforgettable night! "I have been affected directly by something #Bono did!" @meeshy_82 said proudly, after he took a sip from his water bottle and spit it all over us. We squealed, hugged, cried... there is nothing like GA at a U2 concert.'
What did Bono Say?
For anyone here from across the border 'Vamos a la fiesta' (intro to Vertigo)
(as Macphisto) '...lunatics on the left and the right have and lunatics from a whole other category .. warehousing children… putting children in cages...very Hansel and Gretal, huh?'
'God Bless America. The country that brought us both Donna Summer and the Pixies.'
And if you were at the show, your own photos and reviews below.
And don't forget - #WomenoftheWorldTakeOver.
Ahead of the show, why not... SING IT. RECORD IT. POST IT.
Sing the song, share it online. Join the movement.