'Green Light, Seven Eleven…'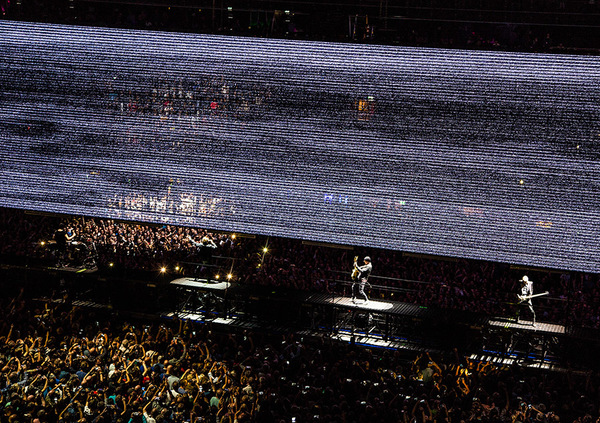 'Let's do this Amsterdam! We can do this…'
And we could and Amsterdam did, from the opening chords of The Blackout to the final notes of (13) There Is A Light.
When & Where
Night 2 in the Ziggo Dome, Amsterdam, Monday 8th October 2018.
Set List
Let's do this Amsterdam! We can do this…'
And we could and Amsterdam did, from the opening chords of The Blackout to the final notes of (13) There Is A Light. Told the story of innocence and experience all over again and remembered those days in Berlin when east and west were being united but the band... less so. 'We'd come to find the spirit of David Bowie, Iggy Pop, Conny Plank… but all we found were the ghosts of Hansa Studio...'
'Green light, Seven Eleven,
You stop in for a pack of cigarettes.
You don't smoke, don't even want to.
Hey now, check your change.
Dressed up like a car crash
Your wheels are turnin' but you're upside down.
You say when he hits you, you don't mind
Because when he hurts you, you feel alive.
Oh, is that what it is?…'
Here's the full set list from Amsterdam 2.
U2.com / Zootopia Review
Gogme United for Zootopia
'Since 1981 I haven't missed a single U2 Tour in The Netherlands and with all European gigs the Experience & Innocence concerts in Amsterdam were number 39 and 40 on my list. The first night was great, I managed to avoid a lot of spoilers and was quite surprised with the new screen, the visuals and the sound of course. That day brought my both long-life loves together as the famous Ajax football club played a home game in the Johan Cruijff Arena after which it was just a few steps to the Ziggo Dome to see my favorite band. On Monday I felt a bit worn out, it's not just the band that's getting older, and dragged myself to the venue to get a decent spot on the floor. When we entered the railing outside of the Red Zone was still available, so that mission was accomplished and I could see the second night from a whole other perspective. Since the beginning of the European leg of this tour the band was quite consistent in the setlist, a few minor changes from the first to the second night, but some new songs were added and they're great. Especially the less famous Achtung Baby songs like 'Who's gonna ride your wild horses', 'Zoo Station' a full band 'Stay' and off course 'Acrobat' were a delight to hear again. The songs of the last album blended in perfectly and other highlight like 'Elevation', 'Beautiful Day' and 'Vertigo' are always great. 'Pride' was another highlight, because a small stage was setup in both Red Zones and I was just a meter away from my favorite band member Adam Clayton! Another highlight is the new arrangement of 'New Years' Day' where a long forgotten lyric came back: 'Maybe the time is right, maybe tonight?' And the answer to that question is yes, these were great nights and hopefully the last words of Bono aren't another 'we have to dream it all up again' message...
Experience Of The Day
Some fans put together a book of stories about U2 fans from all over the world, with the hope of presenting a copy of it to the band this week… and fan @u2_panama captured the moment on camera when that actually happened, via instagram, along with these words : 'I am so happy! I've cried tears of joy with this pics !! Really did (love it) for what it meant: (these) ladies have worked on a book of stories from #U2 fans all around the world about how we all became U2 fans and what the band means to us, I am so glad I am included in this book !! And soooo happy to see this pics of the moment they gave the book to Bono and how he reacted ! Kissing and holding them … they really deserve this moments and so much! For all the nice work they have done on behalf of all os us : U2 fans from all over the world! Panama is present on that book!'
On The Socials
Michel Pas (via Facebook) 'Perfect catwalkrail spot for another great night in Amsterdam. Thanks from the guy in the orange custom made U2 t-shirt (yeah you pointed at me Bono :)) . Thanks for a great very long weekend in Amsterdam…'
@febottini (via Twitter) 'Bono, thank you for mentioning Brazil during 'The Best Thing'. We need positives vibes more than ever.'
Adline Lewuillon (via Facebook) 'Thank you for an amazing show, full of emotions and nuances, and a breathtaking ending… Songs of Experience truly is the album of the maturity.'
What Did Macphisto Say?
"Oh… it's you again! Power to the people… power to my kind of people… Macphisto's kind of people"
(Macphistos's alter-ego Bono) : "How's that for a Monday night?"
Were you in the house tonight ? Post your reviews and add your photos below.
More on the second night in Amsterdam coming up, meantime here's the set list.