Dirty Day in Dublin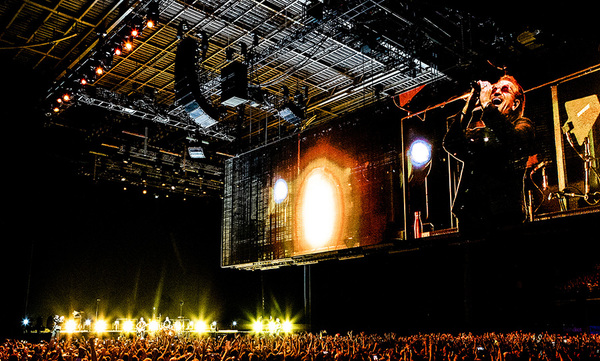 Dirty Day in Dublin
Third night of four in Dublin and how to top the first two. Put Dirty Day in the show for the first time since December 1993.
When & Where
Night 3 at the 3Arena, Dublin, Friday 9th November 2018
Setlist
Third night of four in Dublin and how to top the first two. Put Dirty Day in the show for the first time since December 1993. 'It's a Beautiful Day, all right,' reflected Bono, on a wet and windy Dublin night, getting set to open the 'Berlin' sequence of the I&e narrative with a long lost classic from Zooropa.
'Now each of us has a story as to how we got here tonight., Larry, Edge, Adam and myself… We grew up on the north side of Dublin in the seventies.
Ireland in the '70s was not the happiest place. There was "The Troubles" between North and South but there were all kinds of troubles on this island that had nothing to do with politics. No jobs . The troubles in a family home. A different kind of dangerous, like sons taking on fathers with so much to prove. U2 was our way of getting out from their shadow, to be different to them, our way of saying to our fathers, 'I'm not like you'….'
As sketches of Garvin Evans, Brian Clayton, Larry Mullen Snr. and Bob Hewson appeared up on the screen, Bono recalled how his own father didn't take his son too seriously:'He could see I was doing a great job of that myself. ..'
'I don't know you and you don't know the half of it
I had a starring role, I was the bad guy who walked out
They said be careful where you aim
'Cause where you aim you just might hit
You can hold onto something so tight
You've already lost it
Dragging me down
That's not the way it used to be
You can't even remember
What I'm trying to forget...'
The arena was illuminated with heart shaped red balloons as One gave way to Love Is Bigger. It was the idea of a fan who'd won a radio competition and travelled to see the band play in Berlin. Aoife Murdock said she wanted to surprise the band and crew and give something back.
We thought Tuesday couldn't be topped but Friday night in Dublin might have pulled it off.
Here's the full set list from Dublin 3.
On The Fansites
Sherry Lawrence from @atu2 travelled in from the USA for the final 2 Dublin shows and sent us her thoughts about Dublin 3…
'The eXPERIENCE + iNNOCENCE tour is in its final days, which makes these shows all the more special. This is a tour which has continued to evolve, getting better with each change. It was because of those changes that I came to Dublin to reacquaint myself with the show. The shows I saw in the U.S. paled in comparison to Dublin. It wasn't because of it being in U2's hometown, rather it's because the show found its voice once the tour arrived in Europe. The boldness of the call for unity was not as vivid or direct during the first leg in North America.
The power and energy coming from the four band members filled the arena - you couldn't help but feel like you were on this journey with them. Bono kept inviting us in call-and-response, engaging the audience more than he did in the shows I saw on leg 1. Larry's drumming is the best he's ever played - he couldn't hit the skins any harder without breaking them. Edge seemed lost in the songs, playing with eyes closed for many tunes. Adam exuding joyfulness while playing his new lighted fly wing bass. Their performances elevated the songs we all love into a different stratosphere. The inclusion of "Dirty Day" was a brilliant choice. Mothers were the focus of iNNOCENCE, so it was only natural for fathers to be the bookend of eXPERIENCE. The smooth transition into the Achtung Baby/Zooropa segment of the first act felt seemless with the new dialog that began "Dirty Day." The song, only played 10 other times during the Zoomerang leg of ZooTV in 1993, sounded as fresh as new. It's a natural fit for this show. The visuals reintroduced the lightbulb, reworking the visuals from "Cedarwood Road" and "Song For Someone" to provide another link between the 2015 production and 2018. It also serves as a bookend to "Who's Gonna Ride Your Wild Horses": "These days run away like horses over the hills" ("Dirty Day").
This is a band which has been chasing after that wild, independent kindred spirit from the beginning. This suite of songs shows that journey from father to son, both as sons and as fathers. The global audience at 3Arena embraced each song in the set list like an old friend. For me, that added to the energy. It was a night I will cherish for sure. Dublin 3 ranks right up there as one of the best gigs I have ever been to. At the start of the tour, Bono said in an interview that WGRYWH was more about his relationship with his daughters as they may not need their old man and him trying to reconcile that. (To me), Dirty Day is the song reconciling his relationship as a son with his Dad. Those two songs are powerful narratives in the journey story.'
On The Socials
After almost 25 years (actually 24 years, 10 months, 30 days… as the stats fans kindly reminded us - you know who you are ;), it was Dirty Day that lit up the socials. Those who were at the show and those following along online shared the moment… Dirty Day Dublin Debut. 'It's nice to get out of the house'…
Fabiano from Brazil travelled in with his friend Marcelo and is connected to many fan sites across the world including @ultravioletu2 @u2br @sombrasearvores @u2wolvesbr - we spotted him front row near the `Red Zone soon after the show and he told us : '(it) was magical, or may I say was a "Dirty Day". The transition from Beautiful Day to Dirty Day, where Bono tells the story about his dad (who) doesn't believe him to be a rock star was mind blowing because today millions of fans believe him and travel all around the world to see the band. Me and my friend @u2_marcelo came all the way from Brazil to see these 4 concerts in Bublin Dublin and listening this song after more than 24 years was a big moment of Joy and happiness.'
Jonathan Martin - @theboyonthebike via Twitter : 'Rabid fans like me utterly lost our minds tonight at the tour premiere of the brilliant but rarely played "Dirty Day" off of Zooropa (I've never heard it live in all of my shows). I may have shrieked a little bit. Absolute highlight of any @U2 ever for me.'
James - @TheeEdge. 'Bono knows how to tell a story and Dirty Day was no exception. Not only is he brilliant in his presentation skills but has mastered the craft hands down.'
What Did Macphisto Say?
Hello… you lovely little Lepricians. Macphisto is my name. I'm Irish actually…Isn't everyone Irish who wants to rule the world? I've a message for you little Ireland people… Build that wall… build that wall… BUILD THAT WALL! Call it a backstop, call it a Peace Wall, call it a border, whatever - just build it! How? I hear you ask. Just let the passions flow… little bit of distrust, bigotry, jealousy… and watch that wall emerge. People's hearts and minds, brick by brick. Brick by brick. Ha ha ha…'
U2.com / Zootopia Reviews
the shev. 'Blown away by DIRTY DAY in dublin. There is only one band our band the U2 formally feedback.thank u for everything. i'm bringing my 7year old son davey tomorrow nite .he wants to say hello to the FINGLAS MAN BONO'
valeriafoschi. 'Night 3 in Dublin and 5 in Ireland and what an amazing night. Fantastic 4 again, powerful music, always the right words Bono.. thank you for the gem of Dirty Day. My own father was up there on the big screen. Can't wait for tomorrow's show.'
What did you think? Were you at the show ? Post your reviews and add your photos below.