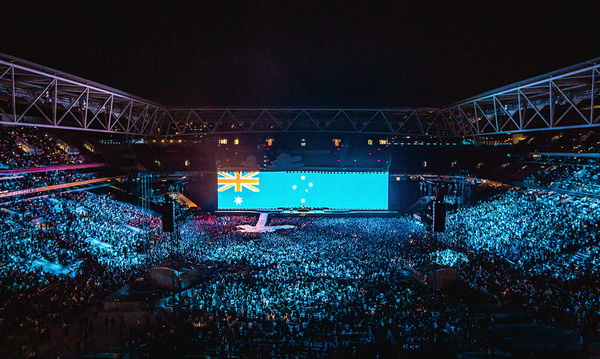 'To keep us all safe…'
'For the firefighters out there tonight
Putting themselves in danger to keep us all safe
For the firefighters
We sing for you…'
The first of six shows in Australia and 'Bad' goes out to the women and men fighting the fires raging across eastern Australia.
Quite a night in Brisbane, the band back in Australia for the first time since 2010.
'To keep us all safe…'
'For the firefighters out there tonight
Putting themselves in danger to keep us all safe
For the firefighters
We sing for you…'
The first of six shows in Australia and 'Bad' goes out to the women and men fighting the fires raging across eastern Australia.
Quite a night in Brisbane, the band back in Australia for the first time since 2010.
IN THE PRESS
Tony Moore in the Sydney Morning Herald
'Against the backdrop of the bushfire crisis affecting Queensland and NSW, U2 frontman Bono had a message for fans at the sold-out Brisbane concert on Tuesday night. "The way we live in one place, affects life in every other place,'' Bono said. "None of us is really an island….'
Mary Mrad For Daily Mail Australia
'... The band, who last visited the country in 2010 with their 360 tour, wowed the crowd with their exciting set…. fans took to Twitter to compliment the group on their performance, and labelled the show as 'magic'. 'I'm so emotional right now. It's embarrassing. It never gets old. They always do that. That magic that steal my heart. I'll never have words strong enough to thank them for this. I'll be quiet and take it all in,' one person wrote. 'Gorgeous choir out there in Brisbane. And LARRY at his best,' another said. One person added: 'Ahhhhhh STREETS!!!!! STREETS!!!!! Never ever getting tired of hearing this! Goosebumps all over the shop'.
The Guardian (Australia). 'Who knew stadium rock didn't need constant reinvention?
The key ingredients seem to be a bass drum set to the level of a Napoleonic cannon and familiar galloping tunes the crowd can screech into the Suncorp Stadium void..'

ABC.net. 'If you separate the band from their reputation and take this show of face-value – imagining they were any other professional band in operation today – this show is extraordinary.'
ON THE SOCIALS
Long time U2 fan and now a freelance Music Journalist Tassoula Kokkoris (@tassoula on Twitter) was at the show and kindly sent us these words as she left the stadium :
'Even nearby fires raging out of control didn't impact Bono's voice tonight—in fact, it may have made it stronger. A fitting Midnight Oil snippet graced the opening set, "How do we sleep while our beds are burning?" and the crowd took the energy of that message and multiplied it tenfold. The full moon shining above the stadium made for a poignant "One Tree Hill" and an especially beautiful "Every Breaking Wave." In the final set, Australian comedians, athletes and artists were featured alongside other notable women on the #herstory screen. "One" sent us all into the night, unified together in song and sentiment. A fitting return to a beautiful country.'
Musician & Savage Garden singer @darrenhayes connected up with family globally, following the show live through the power of social media technology : 'My Sister, Brother, Nieces, Nephews and even my beautiful ex wife are all sitting together now in Brisbane Australia watching u2, live. I'm watching a live stream from LA and somehow, we are all together. I love you, my beautiful family. I'm so grateful'.
@kadi_fails was a little closer, listening in for free the old fashioned way :
'U2 concert 2km away and it sounds like they are playing outside. I'm watching the full moon and listening to their music'.
@NicCarrington (via Twitter)
Mind blown... So, so good - powerful, magical, epic. Thank you. It was like a religious experience!
WHAT DID BONO SAY
"Thank you Brisbane for letting us back into your lives. Thank you Australia for letting us back into your country. You've always been so good to us. In good times and in hard times. Hope we can be the house band for this moment"
"You know how in the blink of an eye a country can change… spiritually… psychically… you know what I'm talking about..." (In God's Country, then dedicated to actor comedians Steve Martin & Martin Short, on tour in Australia at the moment and in the house tonight)
"From the people of our little island to the people of your gigantic island... from Africa to Australia… we are all connected... in our day… the way we live in one place affects life in every other place. None of us is really an island… from rising sea levels to catastrophic fires. Big crises… Global crises… but we can put out these fires, if we act together. As ONE.'
Introducing the band, during Even Better than The Real Thing.
'He puts the glam into punk rock and the punk into glam rock… he IS rock! Rock steady… Larry Mullen Junior'
'Our former wild boy, now Lord of the manor… the first manager of U2… Adam Clayton'
'He may be a scientist, but with that guitar you KNOW he could blow up the world!! Our very own WMD: Weapon of Mass Devotion… The Edge'
'Is it so wrong that the singer needs you more tonight than you need him'?
IN THE SETLIST
Australian debuts for 3 songs from TJT tonight - can you guess what they were? (our friends over at @U2gigs have the lowdown on that, plus a couple of other Australia debutantes.)
ON THE FANSITES
Images selected for the Ultra Violet (Light My Way) #herstory section tonight featured Australians including Lisa Bellear, Aretha Brown, Cathy freeman and Olive Cotton. Aaron J. Sams and his team over at @U2Songs are keeping tabs on the Luminous Icons that are appearing on the show screen this tour, checkout that ongoing labour of love here.
Here's the complete set list and if you were at the SunCorp Stadium tonight, tell us all about it.
Add your own review and photos below.