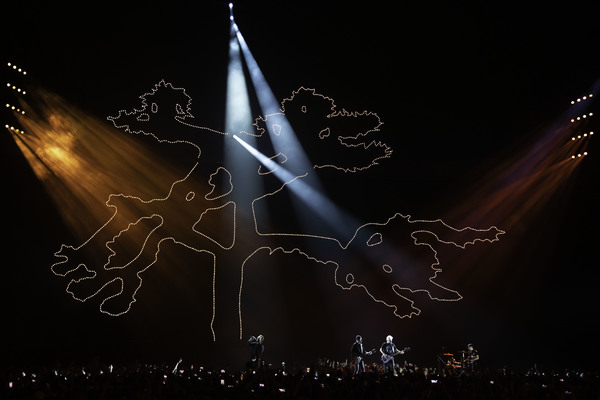 'I Fall At Your Feet...'
'And whenever I fall at your feet
You let your tears rain down on me
Whenever I touch your slow turning pain
And whenever I fall at your feet
You let your tears rain down on me...'
Stellar show on the second night in Auckland with the spirit of Neil Finn and Crowded House in Mt Smart Stadium during Bad and foxtrot lessons from The Drifting Cowboys in Trip Through Your Wires.
Another moving tribute for Greg Carroll ('He was kind of smart, savvy dude, kind of beautiful in every which way. We thought we had adopted him, but turns out he adopted us. He steered us through some difficult things. He became a close friend.') and an ovation when we heard his family were in the house. Another ovation when we heard that Prime Minister Jacinda Ardern was also here, and one of the 'luminous icons' featured on screen during Ultraviolet.
ON THE FANSITES
@U2Start interviewed fans on Periscope as they left tonight's 2nd and final Auckland show : "Really good.. the band had so much fun with each other… Larry was on fire! They seemed to be in very good spirits, interacting with each other and laughing and joking… it was great to see Larry was on the microphone… OMG! Have we ever seen that before? …and Edge told a little bit of a story as well.. about being in another band… and Larry's advice… he learnt to play the foxtrot! I thought he was going to get up and do a bit of a dance! And the Crowded House snippet in Bad… from a New Zealand band while they are in New Zealand… us lot were singing along with it!
Watch the full interview with fans here :
ON THE SOCIALS
@amubalt
Massive shout out to Joe O for a strong mix in really challenging conditions with wind blowing sound all over the place
@u2gigs
Every performance of One Tree Hill gets me, not gonna lie, but both tonight and last night have had an extra level of power, wow. Greg Carroll shown on screen again tonight
@doroshi_desu
start to end was visual masterpiece & so very thought provoking!! Appreciation to you all for a simply fantastic show in Auckland tonight!
@NejcSusnik
Hearing U2 concert 10km from away #U2Auckland #one goodnight songs :)
IN ZOOTOPIA
Ilmajoki said: Bullet the blue sky: strong, heavy and dirty. This is a compliment.
dmway replied : Yes, it is... The Edge has evoked great sounds from his guitar on this song the past two nights (and every other night on pretty much every song ever).
WHAT DID BONO SAY
'...in a blink of an eye a landscape of a country can change… gods country...'
'.. It's worth remembering.. in our situation, the U2 group… Edge & Larry had another life… The Drifting Cowboys…'
'...its not luminous figures that will change the world… its social movements that will …' (Love Is Bigger Than Anything In It's Way)
WHAT DID EDGE SAY - 'I was told 'there's no money to be had in rock and roll'
WHAT DID LARRY SAY - 'I learnt to do the foxtrot'
IN THE SETLIST
'You're The Best Thing About Me' makes its tour debut, last performed in Berlin, final date of the #u2eiTour 13th November 2018.
That was one special night in Auckland. Thank you New Zealand.
Here's the complete set list and if you were at the Mt Smart Stadium tonight, tell us all about it.
Post your own reviews, photo's and comments below.