Take a look at the digital downloads in the U2.com Shop.
You can now purchase every U2 album as either high quality mp3 audio files or in lossless FLAC format. (FLAC stands for Free Lossless Audio Codec) The U2.com shop is the only place where the FLAC format is available.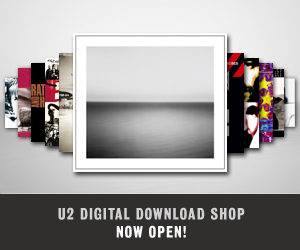 BUNDLES
Our shop has also launched some special product bundles - pick up 'The Future Needs A Big Kiss' tee-shirt along with No Line On the Horizon as a digital download and make some serious savings.
PLEASE NOTE.
There are restrictions on the availability of the digital downloads in certain countries.
MP3 Format -- US, UK, IE - all albums available (more countries coming online soon, keep an eye on this article)
FLAC Format -- US only for all albums. No Line On The Horizon available US, UK, IE. (more countries coming online soon, we'll keep you posted)