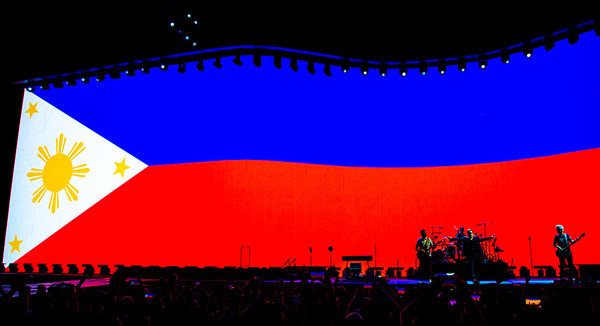 Gloria in Manila
Sunday Bloody Sunday, Gloria, New Year's Day, Bad, Pride…. pretty great to announce your debut performance in the Philippines.
And what a reception from a huge audience in the world's largest indoor venue.
'Thank you for your patience.
Well our prayer tonight is for an epic night of rock'n'roll transcendence...
Anything can happen, anything will happen, you need it, we need it…'
We all needed it on the penultimate night of a tour that opened in Vancouver in May 2017 and closes this Sunday in Mumbai.
So many heroes in the house tonight, including 100 Red Cross volunteers, part of the response to the recent Typhoon Kammuri.
'The Red Cross volunteers… let's keep them in our prayers, the ones who keep us safe from physical harm, also for the journalists, for truth tellers,
activists, who keep this country spiritually safe… everyday heroes all, women and men, let's see your stars in the sky Manila..'
IN THE PRESS
(Rappler.com - uncredited)
U2 held their historic first concert in the Philippines on Wednesday, December 11, and paid tribute to female gamechangers all over the world – Rappler CEO and executive editor Maria Ressa included. After their performance of "Beautiful Day," Bono said, "Human rights drown out human wrongs, that's a beautiful day. When sisters around the world go to school with their brothers, that's a beautiful day. When journalists don't have to worry about what they write, that's a beautiful day. When women of the world unite to rewrite history as herstory, that is a beautiful day." He then said, "For Maria Ressa," before launching into the band's 1991 song, "Ultra Violet (Light My Way)." As they performed, the big screen backdrop displayed photos of revolutionary Filipinas throughout history, including Maria, Philippine Revolution heroine Melchora Aquino, zarzuela singer Maria Carpena, former president Cory Aquino, world-renowned singer and actress Lea Salonga, Senator Pia Cayetano, the #BabaeAko movement, the One Billion Rising movement, Grrl Gang Manila, youth activist and typhoon Haiyan survivor Marinel Ubaldo, activist Lidy Nacpil Alejandro, and environmental and indigenous rights advocate Joan Carling. Women from around the world were also highlighted, including comedians Ellen Degeneres and Hannah Gadsby, primatologist Jane Goodall, protest punk band Pussy Riot, Syrian Olympic swimmer Yusra Mardini, AIDS awareness advocate Connie Mudenda, and climate activist Greta Thunberg, who was named Time magazine's Person of the Year on the same day as the concert.
"Women who light up history, your own Maria Ressa, is an incredible woman. But the extraordinary thing is, even Maria will say it's not about individuals. It's about collective action. It's about social movements. And so then all of you can grow up to be the President or Maria Ressa," he said after the song. Throughout their tour, the band has played "Ultra Violet" to honor women, choosing representatives from each country they visit. In Seoul, South Korea where they played before heading to the Philippines, the band showed photos of historical Korean women, including South Korean first lady Kim Jung Sook, feminist painter Na Hye Sok, Korea's first female civilian pilot Park Kyung Won, and K-pop star and actress Sulli, who died in October. U2's choice to include Maria in their tribute is not surprising – U2 frontman Bono had stressed the importance of a free press and safety for journalists. "President Duterte is very popular, he doesn't need me on his side, and as it happens I have a very deep conviction about journalism," he said at a press conference in Manila on Tuesday, December 10. "The safety of journalists is very important, and I think a democracy requires a free press," he said. U2 is known for speaking up on social and political issues – and not just through their music. At the same press conference, frontman Bono sent out a "soft message" to President Rodrigo Duterte, saying "you can't compromise on human rights."
IN THE SETLIST
'Gloria' returns to the set for it's second only outing this tour and 'Bad' is back complete with a snippet of David Bowie's 'Heroes' dedicated to volunteers with the Red Cross that the band met yesterday and to journalists from this country, 'truth tellers who help keep this country spiritually safe'…
WHAT ELSE DID BONO SAY
'It doesn't matter how long it takes to get where you wanna go as long as you get there in the end' (ISHFWILF)
'This country is a miracle of a place. Look at what you've done with your archipelago... it is an incredible thing to witness… the excitement and kinetic energy of this country, thank you for letting us be guests of the nation.. a great nation' (before God's Country)
'We are coming to the end of our tour soon. I was told today that this is our 2050th show that we have played in our lifetime. Doesn't feel like it…'
'Thank you to the men and women of our crew… Best in the world… Building this… And taking it down
Jake Berry… the most incredible man… came here many months ago to make sure we could play here… In the Philippines… and discover this
incredible room this is a great, great venue.
Well… thank you for sticking with us, thank you for giving us a great life…
How we waited… no good excuse…We should have been here every year…
From our single island to your thousand islands, thank you for making us feel so welcome
On your islands, you're making a new history for yourselves but the truth is, none of us are really an island and what happens in one country affects the other side of the world. From typhoons to droughts… the way we live in one
country affects life in every country. There is no them, there's only us. We are… One.'
ON THE SOCIALS
@sarialmighty : in this sea of people the four decades are worth the wait for every fan inside the arena, U2!
@SilRigote : 'I kinda fee like saying that Manila might get the award of BEST TJT2019 concert. Band sounds flawless, crowd is loud and enthusiastic...what can be better than this? '
@the_gardentarts : I am going to keep talking about those new piano notes in RTSS. They are *everything*. How long has Edge been keeping them from us?! And... hallelujah…'
@miriamgracego : "Ultraviolet (Light My Way)" is from @U2's 1991 album Achtung Baby. Originally a song about lovers going thru rough times, it has taken on a spiritual interpretation — an allusion to a divine light guiding a person through the dark.
AND ALSO
Bono mentioned it might have been the band's 2050th live performance this evening* - but if you know different, do let us know in the comments below
* Source @U2gigs (link : http://www.u2gigs.com/all-u2-tours.html)
Here's the complete set list and if you were at the show in Manila tonight, tell us all about it.