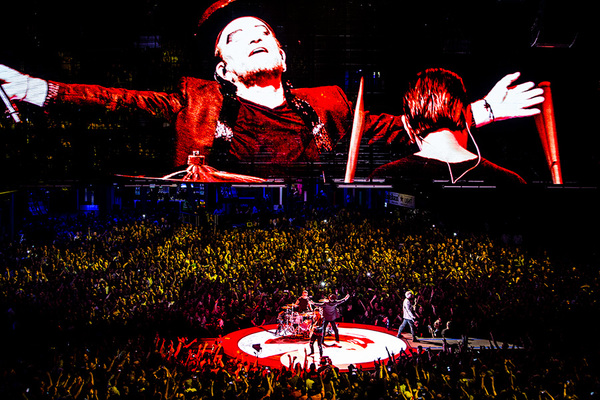 'Innocent boys…'
When & Where
Tuesday November 6th 2018, second night of four at the 3Arena, Dublin.
Set List
'Innocent boys…'
… and more tales of experience on the second night of four home town shows. The joint was jumping again in Dublin tonight, and only after the thrilling sequence of I Will Follow, All Because of You and Beautiful Day was there a pause for breath. Thanks for letting us back in to the country,' explained Bono, reminding people that the band were back to complete their stories of innocence and experience begun three years ago. And then memory took him much further back : 'I was just thinking today about Paul McGuinness, we miss him at a moment like this. In our early days, Edge thought, (and convinced Adam), that he (Adam) should be the manager of the U2 group! …He got cards printed off! Because one day on the way to rehearsals, on the 42 bus, Adam, age 16, did not have his fare and Edge, age 15 was very concerned about that …'cause Adam never had his fare. So the conductor comes up, 'Fares please' and all that. Adam, as cool as Christmas, answers 'Would you mind awfully if I wrote you a cheque?' The conductor, a little stunned. shoots back: 'Kiddo, you don't have a cheque book and I don't need your autograph.' To which Adam says 'Well, here's my address, here is my name... I think you'll see that's legal tender.. and as far as the autograph is concerned, just… give me… time…'
'Innocent boys return tonight to Dublin… as men, daring to believe that at the far end of experience we can again recover that innocence we had when we started out with… here in this city… that's what tonight's about.'
And it was was and they did, from The Blackout to 13 (There is A Light).
Here's the full set list from Dublin 2.
On The Fansites
Greek fan Harry Kantas from U2Songs.com, now living and working for Twitter in Dublin, worked out that this was his 140th U2 show, so we asked him how this one shaped up… in more than 140 characters… (see what we did there?
'Last night was the best of the 2 nights in Dublin so far, in my humble opinion. There was better energy in the crowd. Maybe it was the fact that we queued all day out of the rain! The band were in great form, seemed way more relaxed, since night 1 went down so well. There's always a lot of pressure when you're playing home, and it rarely comes from anywhere else other than yourself, you just want to be the best that you can be. The Dublin crowd were also their best selves. A good mix of Irish fans, with fans from all around the globe, a "Gathering Of The Faithful", as we've been called on other occasions. Last night was a bit of a milestone for me personally, too. My 140th U2 show. That made things extra special. For that reason, I Will Follow served as a flashback throughout this incredible journey. It brought back all the times I've seen this song live, all the way back to my first show in Thessaloniki in 1997 on the POPmart Tour, and then another 10 years before that, when I traded my first U2 cassette with another fan -- I still remember it, PinkPop Festival in Geleen, from 1981. And every single time in between, and up to this very second. There's a lot to be said about sleeping in your own bed after a U2 show, too. The band themselves will always make a big fuss over it, but it's just as rewarding for the fans that follow the tour, it gives you a sense of serenity, makes everything less complicated, and more enjoyable. Highlights from last night's show: I Will Follow, the ZOO TV segment, Get Out Of Your Own Way, and as always, Acrobat! Notable mention: Bono singing the start of The Miracle (of Joey Ramone), after 13. 13 has an obvious, significant role to play as a show closer, even if I would admittedly prefer Love Is Bigger closing the show instead. However, adding the Miracle at the end, the same song that opened the Innocence Tour, completes the circle. Those few seconds made a world of difference, and I hope they make it to the rest of the shows'.
Harry has also added some cool images he took from Dublin 2 to his Zootopia Gallery - check 'em out.
Experience Of The Day
The night when @whenyoungband went to see U2 in Dublin.
On The Socials
nicolasvhe (via Instagram) 'That was an amazing version of THE FLY, Edge you nailed it. THIS IS NOT A REHEARSAL (anymore!) HOW DO YOU DO THAT IN THE DARK? Bono's also asking!'
svenallenbach (via Instagram) 'What a night, what a crowd. Thank you for an unforgettable Dublin experience.'
Tina Niki (via Facebook)
I've absolutely loved SoI and SoE because it gave me a look at the past when you were boys and a look to the future and how exciting you've developed. Most bands play greatest hits, but not U2! Thank you for another fantastic album and another breath taking tour!
Ciaran Burke (via Facebook) 'Yep Northside of Dublin...They be right up there with Aslan.'
What did Bono / Macphisto Say?
(Bono shoutout to fans during Edges' guitar harmonics section in I Will Follow) : 'From all over the world, we see 'em standing outside in the rain... Brazil, France, Germany, Spain… this is where we live! Tonight is not work, it is joy, pure joy… it always is… especially here, in Bubblin' Dublin!'
(To Ali, during intro to 'You're The Best Thing About Me')
'I'm home. Second night. Even better than the first! (Only a showman would say that…) I looked in the mirror this morning and I saw his face… I saw my father's face… and I got a bit of a fright. I don't know why… he loved you so much… he'd be so proud of those boys… he was a Showman too. I miss him. I miss you. I know I fell in love… I fell in love with the U2 crowd… I met some of them outside today... and they said… "You can have him back, if you want!' I'm here.'
(As Macphisto)
You know, we are THAT close… me and The Donald… THAT close… 'Big Mac' I call him… but actually when I think about it he's more The Burger King… plus, he's put America in a pickle! Tonight the 'Big Mac' has a special on offer for the American people, for one day only… Election Day. The 'Deluxe Make America Hate Again Special'! And you know what, they're lapping it up… he's mashed up the American Dream, smothered it in his white supreme sauce, with a taste of bigotry, some green shoots of racism… no taco's… do..do..do..do..do! I'm loving it!'
U2.com / Zootopia Review
Gregg: 'Tonight was electric! From our perspective, the crowd was much livelier than for the first night, which of course bought out the best in the band. Really looking forward to the weekend!'
Ragoo: 'Unreal show by the band. Incredible! …Acrobat was my absolute highlight! The intro to it was angry, i loved it! New Year's Day never disappoints. Roll on Saturday! Will definitely try and get closer to the small stage.'
Were at the show? Post your reviews and add your photos below.