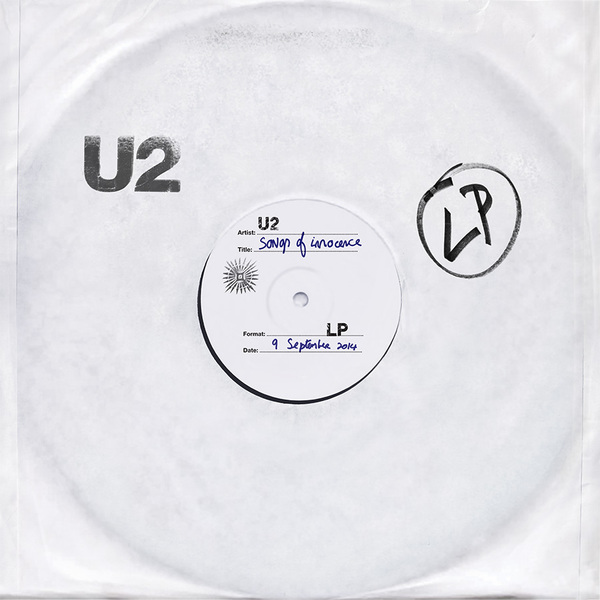 The wait is over.
Songs of Innocence, the new album, is here.
Got iTunes ?
Take a listen
.
Simply go to the Music app on your iOS device, or to your iTunes music library on your Mac or PC, and find 'Songs of Innocence' under the artist or album tab. The new album is in iCloud, just tap the track listing to start listening or tap the cloud icon to download. *
Songs of Innocence
is set for worldwide release on October 13th. Today Apple are giving it to half a billion iTunes Store customers.
Not got an iTunes account?
Create one here
- the album will automatically appear in your library.
U2.com slipped into the studio a few days back where the band played us the new tracks and we were blown away. A kind of musical autobiography, the eleven new songs chart their earliest influences from 70s rock and punk to early 80s electronica and soul... and reveal how music changed everything. As Bono sings in the lead song, 'The Miracle (Of Joey Ramone)' 'I woke up when the miracle occurred/ Heard a song that made some sense out of the world...'
Exploring themes of home and family, relationships and discovery, detailed liner notes fill out the picture with resonant stories, like one of the first gigs the teenage band got into.
'The 4 members of U2 went to see the Ramones playing in the state cinema in Dublin without thinking about how we were going to get in. we had no tickets and no money.. My best friend Guggi had a ticket and he snuck us through a side exit he pried open. The world stopped long enough for us to get on it. Even though we only saw half the show, it became one of the great nights of our life....'
Songs of Innocence
was recorded in Dublin, London, New York and Los Angeles and is produced by Danger Mouse, along with Paul Epworth, Ryan Tedder, Declan Gaffney and Flood. The album closes with 'The Troubles' featuring the distinctive vocals of Swedish indie singer-songwriter Lykke Li.
Here's the eleven tracks: The Miracle (of Joey Ramone), Every Breaking Wave, California (There Is No End To Love), Song For Someone, Iris (Hold Me Close), Volcano, Raised By Wolves, Cedarwood Road, Sleep Like A Baby Tonight, This Is Where You Can Reach Me Now, The Troubles.
On October 13th the physical release of
Songs of Innocence
comes with a 24-page booklet. A deluxe, gatefold double album, contains an acoustic session of songs from the album and four additional tracks: Lucifer's Hands, The Crystal Ballroom, The Troubles (Alternative version) and Sleep Like a Baby Tonight (Alternative Perspective Mix by Tchad Blake)
The album will also be available as a gatefold, double white-vinyl LP with an exclusive remix of "The Crystal Ballroom".
When you've given it a listen, get right back here and review
Songs of Innocence
for us in the comments below.
* 'Songs of Innocence' is already in your iTunes library, waiting for you to download.
On iOS
Open iTunes Store
Scroll down to Purchased
Select Recent Purchases
The album should be displayed there.
On Desktop iTunes
Open iTunes Store
Select Purchased [under Quick Links]
Select Music
Recent Purchases (make sure 'All' is selected)
The album should be displayed there.